Welcome to the vibrant and cosmopolitan city of Barcelona, where luxury meets culture and history. This city is a true gem of Spain, offering travellers an unforgettable experience filled with exquisite cuisine, stunning architecture, and a vibrant nightlife scene.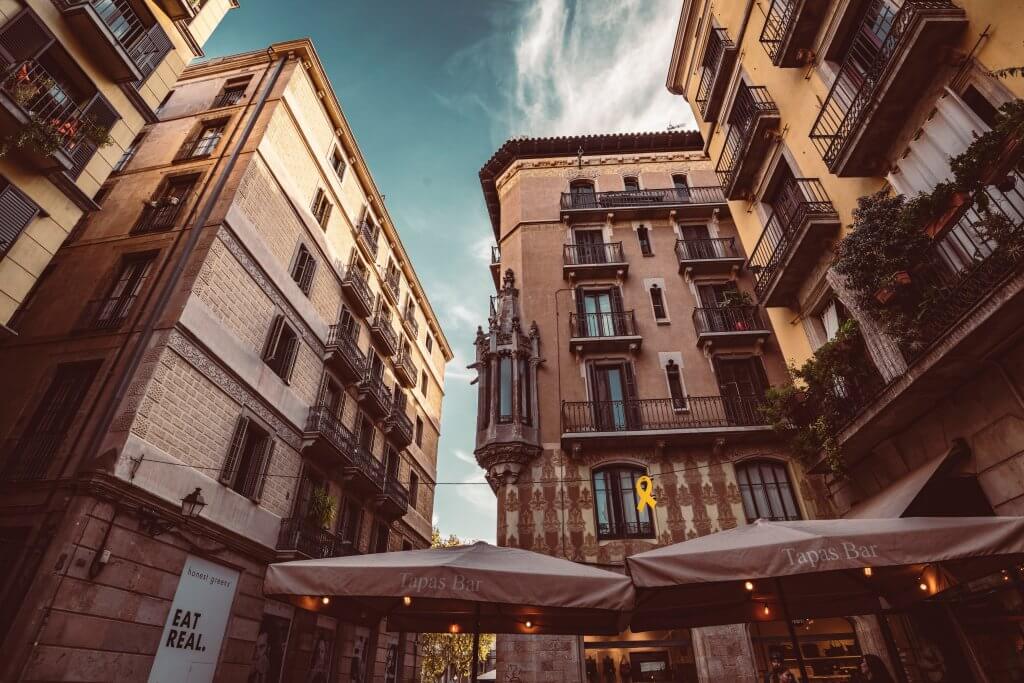 Whether you're looking to soak up the sun on the golden beaches of the Mediterranean or explore the rich art and culture of the city's museums and galleries, Barcelona has something for everyone. Join us on a journey through the best this city has to offer, from luxurious accommodations to indulgent dining experiences and exclusive activities that will leave you feeling pampered and rejuvenated. Get ready to indulge in the ultimate luxury escape in one of the world's most exciting destinations.
Where to stay
Eurostars Sitges
Best for: Luxury escapes

Located just outside of Barcelona, Eurostars Sitges (formerly known as Dolce Sitges) it a luxurious coastal resort. With its unparalleled charm, world-class amenities, and vibrant atmosphere, Eurostars Sitges has quickly become a sought-after destination for discerning travellers seeking an unforgettable experience.
Located just a short drive from the bustling city of Barcelona, Eurostars Sitges offers an idyllic escape from the fast-paced urban life. As you approach the resort, you are greeted by a mesmerising panorama of sparkling blue waters, golden sandy beaches, and lush green landscapes. The tranquil ambiance and stunning natural beauty of the region instantly transport you to a world of relaxation and rejuvenation.
Escape the bustling city life and immerse yourself in the unparalleled charm and world-class amenities. Located just a short drive from Barcelona, this sought-after destination offers a tranquil oasis surrounded by sparkling blue waters, golden beaches, and lush green landscapes. Eurostars Sitges beckons discerning travellers with its idyllic setting, luxurious accommodations, indulgent culinary experiences, unparalleled leisure activities, and a deep connection to the Mediterranean soul and cultural richness. Prepare for an unforgettable experience as we take you on a journey through this exquisite resort.
Read our in-depth review here.
---
Hotel Sofia
Best for: Business chic
Hotel Sofia is a glamorous, high-end 5 star hotel catering for the most discerning of travellers searching for the epitome of elegance and luxury in the heart of Barcelona. Get ready to embark on a captivating journey through Sofia Hotel, where modern sophistication meets impeccable service. From striking interior design to exquisite dining experiences and serene wellness facilities, this is the ultimate 5 star city destination.
The towering 19-storey building stands proud in the midst of the bustling business district. Its exterior may seem imposing, but within lies a world of opulence and delightfully chic business-focussed amenities. One of the standout aspects of the hotel is its luxurious and stylish interior design. The masterful designer Jaime Beriestain has spun his artistry to transform the public areas and dining spaces into captivating spaces.
Hotel Sofia Barcelona offers a number of world-class amenities and services, including a fine dining restaurant, a delectable cafe, and a concierge service that can arrange anything from tickets to the opera to a private yacht charter.
Read our full review of Hotel Sofia here.
---
The W Hotel
Best for: Unrivalled views
Standing proudly along the iconic coastline of Barcelona, the W Hotel represents a beacon of luxury and style. From the moment you step into the lobby, you are greeted by a vibrant atmosphere, modern design, and a warm and attentive staff ready to cater to your every need.
The rooms at the W Hotel Barcelona are nothing short of extraordinary. The sleek and contemporary decor creates an ambiance that is both chic and inviting. Floor-to-ceiling windows offer breathtaking views of the Mediterranean Sea, allowing you to wake up to stunning sunrises or unwind with mesmerizing sunsets. The plush beds are a sanctuary of comfort, and the amenities provided are of the highest quality, ensuring a truly indulgent experience.
One of the highlights of this remarkable hotel is its renowned rooftop bar, Eclipse. Perched on the 26th floor, this stylish and sophisticated venue offers panoramic views of Barcelona that will leave you in awe.
---
Where to dine
Alfresco Restaurant – Sitges
Best for: Authentic cuisine
Alfresco Restaurant in Sitges offers a delightful dining experience that leaves a lasting impression. As one enters the establishment, the charming ambiance and botanical theme immediately capture attention.
The outdoor seating area is a highlight of this quaint little gem. Hidden away in a picturesque courtyard adorned with twinkling lights and lush greenery. The welcoming staff greets guests with genuine smiles, ensuring a hospitable and comfortable experience.
The menu showcases a small but perfectly formed array of dishes. The Ternera Angus steak bathed in a uniquely curated jus proved to be exceptional. Each plate was expertly prepared, and the locally sourced ingredients create a symphony of flavours. The quality shines through in each dish, which are thoughtfully presented, showcasing the chef's attention to detail.
---
Terrassa Martínez – Barcelona
Best for: Authentic Spanish cuisine with unrivalled views
Recently frequented by Barack Obama and Steven Spielberg, Terrassa Martínez is Nestled on the rooftop of the elegant Casa Fuster hotel. Renowned for its no-nonsense approach and simple, authentic menu, the restaurant is a hidden gem that offers an unparalleled dining experience in Barcelona.
The restaurant seamlessly blends a stunning setting, impeccable service, and exquisite Mediterranean cuisine to create a haven for discerning gourmands. Led by a team of talented chefs, the restaurant showcases a diverse array of Mediterranean flavors with innovative twists. From the first bite to the last, each dish is a harmonious symphony of taste and presentation.
The seafood options are a standout, with fresh catches transformed into culinary masterpieces. Indulge in the buttery tenderness of the grilled turbot or savour the delicate flavours of the seafood paella, expertly prepared with a rich blend of saffron-infused rice and succulent shellfish.
---
Terrassa La Punta Restaurant – Sitges
Best for: Fine gastronomy
Nestled in the heart of Eurostars Sitges, the Terrassa La Punta Restaurant provides a tranquil escape where you can relish in a memorable dining experience. The panoramic views of the Garraf Natural Park serve as a stunning backdrop, setting the stage for an extraordinary culinary journey.
The chef's gastronomic proposals showcase the finest ingredients and culinary expertise, ensuring each dish is a masterpiece of flavour and presentation. From meticulously prepared entrées to succulent main courses, the menu offers a diverse selection that caters to a range of preferences. Delight in the harmonious blend of textures and aromas that are expertly crafted to create an unforgettable dining experience.
Read our full review here.
---
Impar restaurant – Barcelona
Best for: A truly enchanting culinary experience
Discover gastronomic delights from the Impar Restaurant, nestled within the beautifully ornate Sofia Hotel.
The multi-gastronomic restaurant emerges as a culinary masterpiece born from a captivating journey across all five continents. Impar embodies a concept that seamlessly blends freshness of Mediterranean ingredients with the exotic allure of hidden corners in the East. Diners will embark on a culinary adventure like no other, where exceptional flavours, tantalising aromas, and exquisite textures come together in perfect harmony. Indulge your senses and let the fusion of diverse cuisines transport you to a world of gastronomic delight.
Read our full review here.
---
Where to visit
La Sagrada Familia
This iconic masterpiece by the legendary architect Antoni Gaudí is an awe-inspiring basilica that has become the symbol of Barcelona. Immerse yourself in its intricate facades, towering spires, and ethereal stained glass windows, and witness the ongoing construction that has been captivating visitors for decades.
Park Güell
Another extraordinary creation by Gaudí, Park Güell is a whimsical wonderland showcasing his unique architectural style. Stroll through the colorful tiled mosaics, marvel at the curvaceous structures, and soak in the panoramic views of the city from this enchanting park.
The Gothic Quarter (Barri Gòtic)
Lose yourself in the labyrinthine streets of the Gothic Quarter, where medieval architecture, charming squares, and historical landmarks await. Discover hidden gems, boutique shops, and upscale restaurants, and feel the essence of Barcelona's past come alive in this atmospheric neighbourhood.
Casa Batlló and Casa Milà
Gaudí's influence continues to captivate with these two exceptional residential buildings. Casa Batlló showcases a façade adorned with colorful ceramics and flowing forms, while Casa Milà, also known as La Pedrera, astounds with its undulating stone facade and extraordinary rooftop.
Passeig de Gràcia
Indulge in a luxury shopping spree along Passeig de Gràcia, one of Barcelona's most prestigious boulevards. Here, high-end fashion boutiques and renowned designer brands line the street, offering the latest trends and exclusive collections.
The Picasso Museum
Art enthusiasts will delight in the extensive collection of works by the iconic artist Pablo Picasso. Housed in five medieval palaces, the museum provides a fascinating insight into the evolution of Picasso's artistic genius.
Montjuïc
Escape to this hilltop oasis and explore its magnificent park, which offers panoramic vistas of Barcelona's skyline. Discover the Montjuïc Castle, visit the Olympic Stadium, and revel in the beauty of the Magic Fountain, where a mesmerising display of light and water takes place.
Beaches
Barcelona's coastline is dotted with beautiful sandy beaches that offer an opportunity for relaxation and indulgence. Bask in the Mediterranean sun, enjoy water sports, or unwind at one of the luxurious beach clubs that line the shore.
El Born and El Raval
These trendy neighbourhoods exude an artistic and bohemian vibe, with avant-garde galleries, stylish boutiques, and hip bars and restaurants. Immerse yourself in the vibrant street art scene and savour the cutting-edge culinary offerings.
The Barcelona Cathedral
Situated in the heart of the Gothic Quarter, the Barcelona Cathedral is a stunning example of Gothic architecture. Marvel at its intricate details, explore the cloister, and witness breathtaking views of the city from its rooftop.