In a remarkable realisation of motoring pioneer The Hon Charles Stewart Rolls' century-old prediction, Rolls-Royce Motor Cars has launched Spectre, its first-ever fully electric model.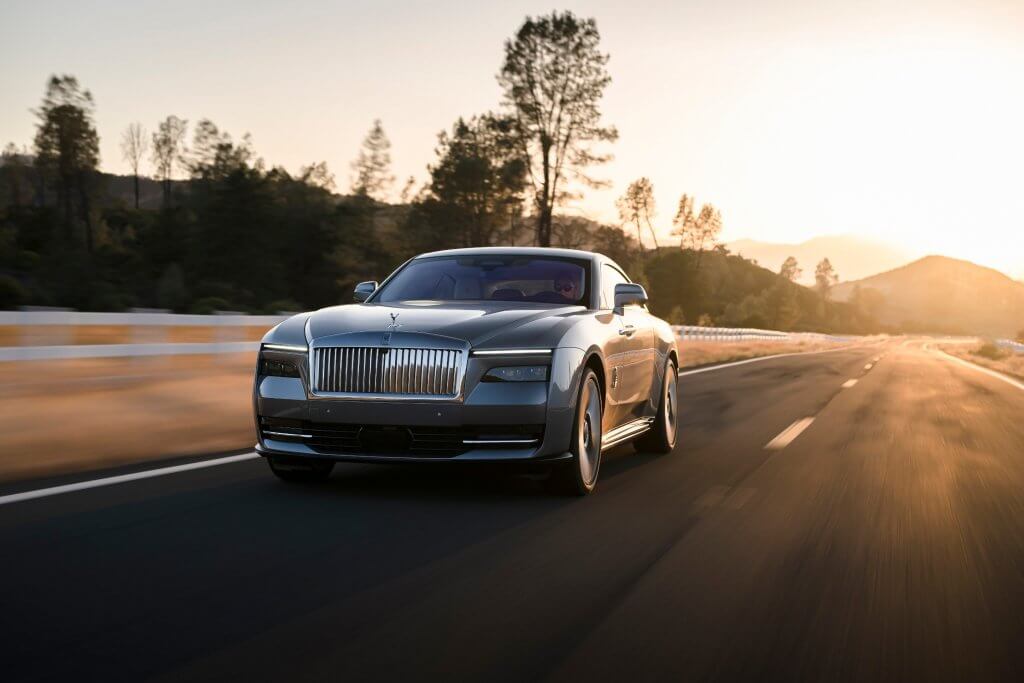 In 1900, The Hon Charles Stewart Rolls, a pioneer in the field of motoring, wrote an article predicting the rise of electric cars. He envisioned a future where electric vehicles would be quiet, clean, and free of vibrations and odours. While it took over a century for his vision to come to fruition, Rolls-Royce Motor Cars, the company co-founded by Rolls, has finally realised his dream.
In September 2021, Rolls-Royce Motor Cars announced that it had commenced testing of its first-ever electric car model. The rigorous testing program involved covering over 2.5 million kilometres across various terrains and temperatures, simulating more than 400 years of normal usage. A year later, in October 2022, the company unveiled the Spectre, the world's first fully-electric Rolls-Royce and a remarkable achievement in technical engineering.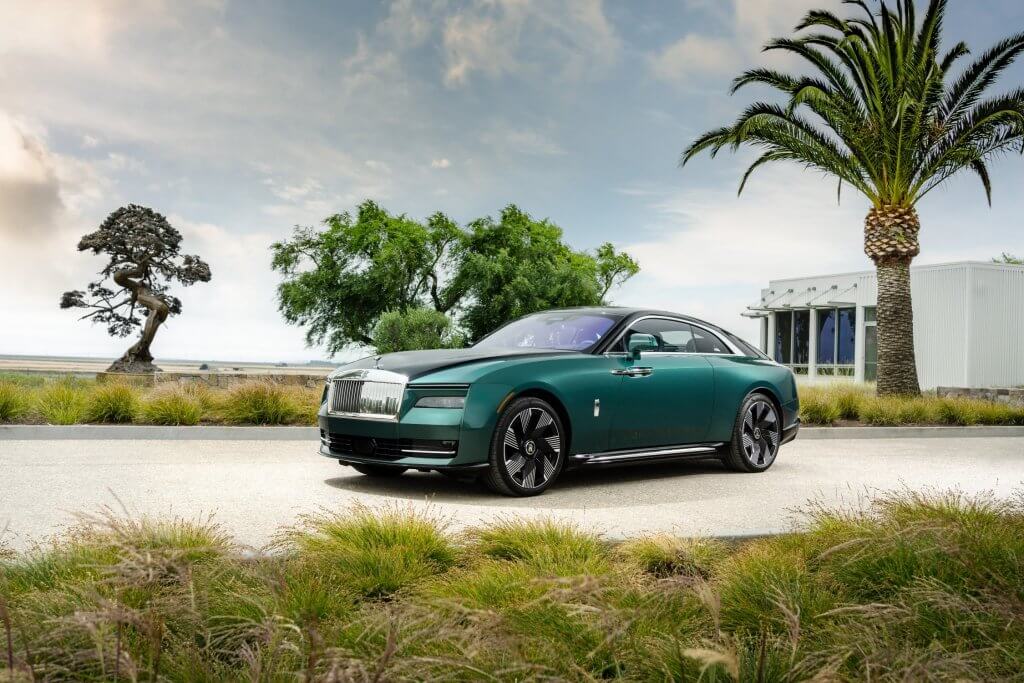 The Spectre represents a significant milestone in the advancement of battery-electric technology. It demonstrates that electric power can be seamlessly integrated into the pinnacle of automotive luxury and performance. The introduction of the Spectre also signifies a monumental shift for Rolls-Royce, as the company plans to transition its entire product lineup to fully electric vehicles by the end of 2030. This decision marks the end of an era for internal combustion engines in Rolls-Royce automobiles.
"This is the start of a bold new chapter for our marque, our extraordinary clients and the luxury industry. For this reason, I believe Spectre is the most perfect product that Rolls-Royce has ever produced."
Torsten Müller-Ötvös, Chief Executive Officer
The Spectre is a groundbreaking ultra-luxury electric super coupe, creating an entirely new category of motor vehicles. It takes the renowned Rolls-Royce experience of instant torque, silent operation, and a smooth driving sensation and enhances it for a new generation of customers. The car's "Decentralised Intelligence" system allows for seamless information exchange among thousands of individual vehicle functions, further enhancing the legendary "magic carpet ride" for which Rolls-Royce is known. Additionally, the Spectre showcases a contemporary yet timeless design language, embracing the brand's heritage while embracing the electric age.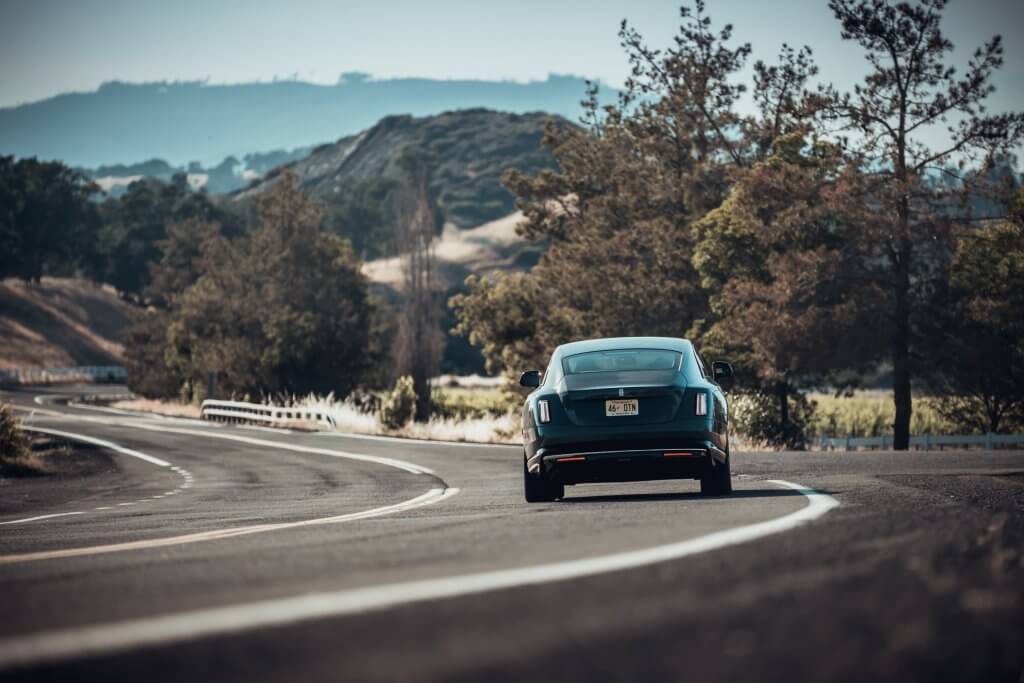 Philosophy and Positioning of the Spectre
The Spectre represents a transformational moment for Rolls-Royce as the world's first ultra-luxury electric super coupe, ushering in a bold new electric future for the brand. Crucially, the Spectre is a Rolls-Royce first and an electric car second. The company has made no compromises in terms of interior space, comfort, performance, or ride quality. Instead, these aspects have been refined and elevated through the car's underlying architecture and engineering.
With its visually striking two-door fastback design, the Spectre serves as the spiritual successor to the iconic Phantom Coupe. Its intimate interior provides a canvas for personalised customisation, featuring a unique illuminated fascia and the first-ever Starlight Doors in a production Rolls-Royce.
"It is a highlight of my professional life to have developed Rolls-Royce Spectre, the car which propels Rolls-Royce into its bold, electric future. Rolls-Royce Spectre brings the future of this great marque into the present."
Dr. Mihiar Ayoubi, Director of Engineering
While each Spectre owner is unique, they often share an appreciation for exquisite materials, craftsmanship, and minimalist design. These individuals prefer an uncluttered aesthetic free from unnecessary embellishments. Many Spectre owners are younger, self-made, and self-assured, embracing contemporary values such as sustainability, authenticity, conscientiousness, and longevity. As one of the world's most desirable luxury goods, the Spectre becomes an extension of its owners, reflecting their personalities, values, and accomplishments.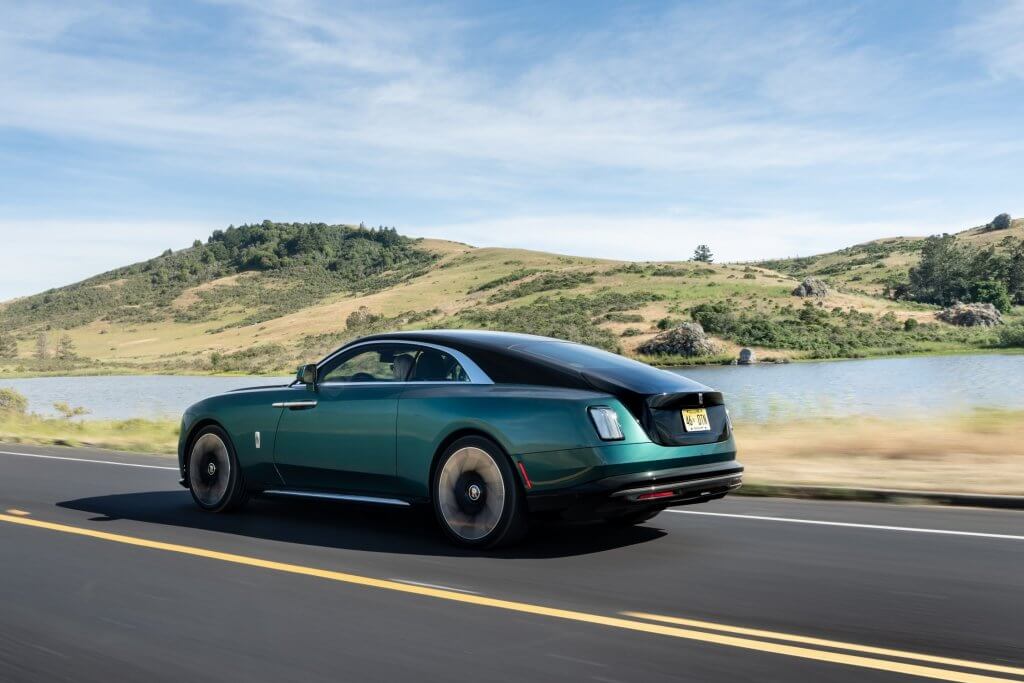 Engineering of the Spectre
The Spectre represents the next chapter in Rolls-Royce engineering, referred to as "Rolls-Royce 3.0." It follows the success of the Phantom, which marked "Rolls-Royce 1.0," and the "Architecture of Luxury" introduced with models like the Cullinan and Ghost, representing "Rolls-Royce 2.0." With its fully-electric powertrain and Decentralised Intelligence system, the Spectre sets the stage for a new era of super-luxury motoring.
Built on the proprietary Architecture of Luxury platform, the Spectre is the fourth Rolls-Royce model to utilise this unique all-aluminium spaceframe. Remarkably, the platform was designed from the outset to accommodate an electric powertrain, showcasing Rolls-Royce's forward-thinking approach. The architecture's scalability and modifiability allow for customisation based on the specific requirements of each model.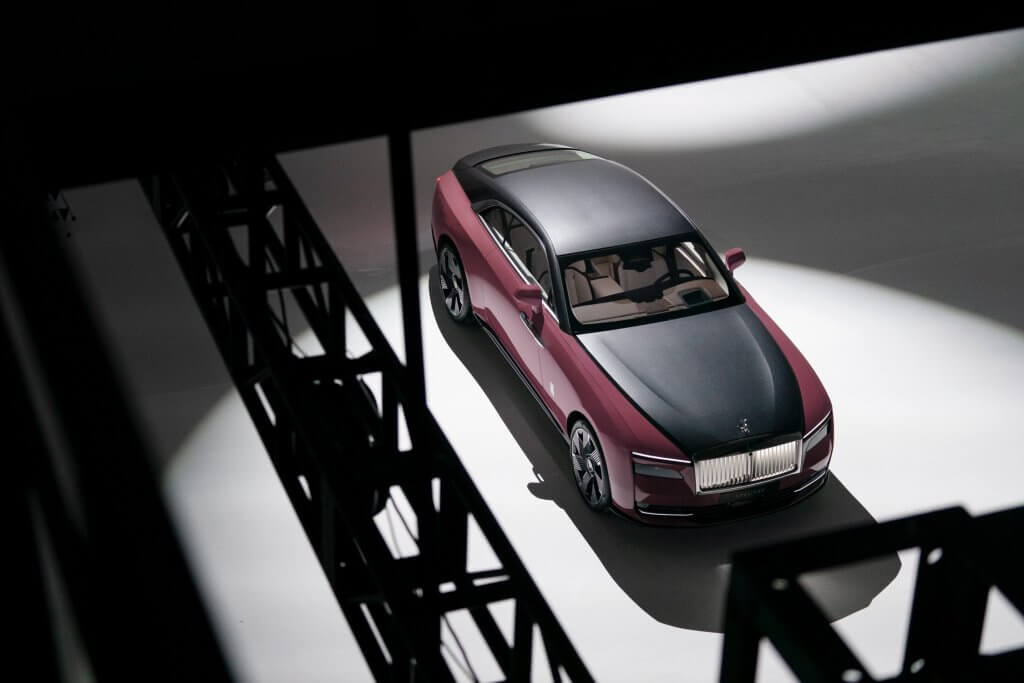 For the Spectre, Rolls-Royce engineers pushed the boundaries of the concept even further. The advanced extruded aluminium sections and integrated battery structure result in a 30% increase in the spaceframe's stiffness compared to previous Rolls-Royce models. This architecture also enabled the positioning of the floor between the sill structures, contributing to a lower seating position and a truly enveloping passenger cabin. The sleekly raked windscreen not only enhances the car's aesthetics but also improves aerodynamics.
"We have designed Spectre as a true Rolls-Royce, with a strikingly modern yet timeless aesthetic, which brings our marque's design language and Bespoke capabilities into a new, electric era."
Anders Warming, Director of Design
The battery, with a capacity of 102 kWh, is integrated into the architecture and acts as an additional 700 kg of acoustic insulation, ensuring a quiet and refined ride. Made using cobalt and lithium from controlled sources in Australia, Morocco, and Argentina, the battery cells are produced using 100% green electricity. Rigorously tested in extreme temperatures ranging from -40°C to +50°C, the battery benefits from Spectre's on-board thermal management system, maintaining optimal operating conditions at all times.
The Spectre is equipped with an uncompromised all-electric drivetrain, featuring two Separately Excited Synchronous Motors (SSMs). The front motor delivers 190 kW of power and 365 Nm of torque, while the rear motor produces 360 kW and 710 Nm, equivalent to a total output of 430 kW (584 hp) and 900 Nm of torque. The car achieves impressive acceleration, going from 0 to 60 mph in 4.4 seconds (0-100 km/h in 4.5 seconds).
Rolls-Royce engaged with clients to determine the ideal range for the Spectre, resulting in a confirmed range of 530 km (329 miles) according to WLTP standards. This range comfortably accommodates the lifestyles of Rolls-Royce clients, who typically own multiple cars and drive an average of 5,100 km per year in their Rolls-Royce vehicles. Charging from 10% to 80% takes approximately 34 minutes using a 195 kW (DC) fast charger, providing around 100 km of range in just nine minutes.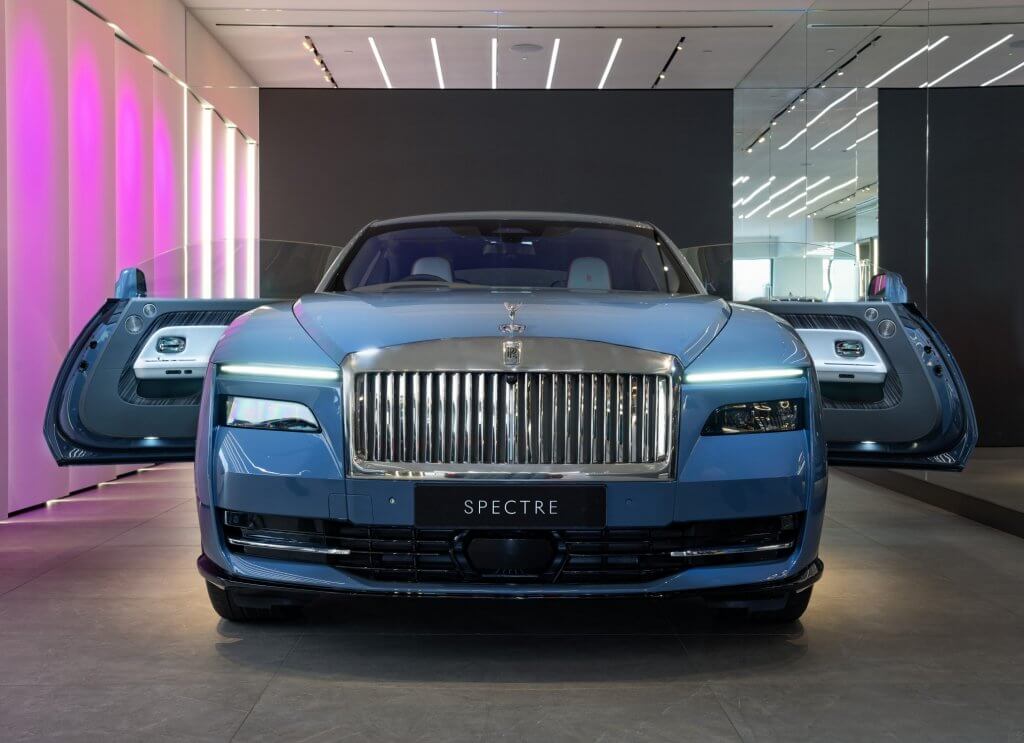 The Spectre incorporates advanced technologies such as Active Lane Centring and Adaptive Cruise Control. Its digital engineering is unparalleled, with three times the number of sender-receiver signals compared to previous Rolls-Royce models. The car's Decentralised Intelligence system processes data closer to its source, enabling rapid and precise responses to road and weather conditions. With over 141,200 sender-receiver variables, each with dedicated controls and sub-variables accounting for various factors, the Spectre ensures quick adaptation to driver inputs and changing road conditions.
One of the Spectre's engineering highlights is its Planar Suspension System, an evolution of the acclaimed system introduced in the Ghost. Combining specially developed hardware with high-speed processing capabilities, this system delivers Rolls-Royce's renowned "magic carpet ride." The increased torsional rigidity of the Spectre's structure eliminates the need for an upper wishbone damper, while automatic decoupling of the anti-roll bars on straight roads and precise adjustments during cornering ensure exceptional stability and comfort.
Spectre represents a groundbreaking achievement in engineering and design for Rolls-Royce. As the world's first ultra-luxury electric super coupe, it embodies the company's commitment to an electric future without compromising on the hallmark elements of a Rolls-Royce vehicle. With its revolutionary architecture, all-electric drivetrain, and advanced technologies, the Spectre sets a new standard for luxury electric vehicles. Rolls-Royce's vision of a future without internal combustion engines is becoming a reality, and the Spectre paves the way for the brand's complete transition to fully electric vehicles by 2030.