Film-star and owner of Aviation Gin Ryan Reynolds meets with Sir Richard Branson to form Virgin Atlantic partnership. The Executive Magazine finds out more.
Ryan Reynolds is a household name thanks to his illustrious film career, and his latest role as Deadpool has catapulted him into the limelight once again. But Reynolds is also passionate about business, and his latest venture sees him delving into the world of gin.
After tasting Aviation Gin for the first time whilst on vacation in Oregon, Reynolds loved it so much that he bought the company, he said, "Aviation is the best tasting gin in the world. Once I tried it, I knew I wanted to get involved with the company in a big way."

Wine and spirit aficionados Wine Enthusiast Magazine have rated Aviation Gin a record breaking 97/100 points, citing its smoothness and softness on the palate. The gin is crafted in small batches in Portland, Oregon, and has a unique botanical profile, with caraway and juniper in the background and citrus and floral notes in the front, finishing with a dry, faintly spicy taste. Crafted as an artisan spirit, the blend has been created to form the foundations for more balanced cocktails, as well as to be enjoyed neat.
Reynolds isn't just the face of the brand, along with his investments he's taking an active role in the day to day running of the business, as well as over overseeing the creative direction of the marketing. This included a new bottle design and media and press relationships, built on Reynolds's prolific profile.
The move caught the attention of Virgin Group Founder Sir Richard Branson, and meeting with Reynolds, a partnership was born. Branson says "I'm delighted Virgin Atlantic is working with Ryan and his team on this partnership. Aviation Gin was born out of a spirit of innovation, so serving it on board Virgin Atlantic flights seemed like the perfect combination."
Ever the joker, with a jovial spirit, Reynolds remarked on the partnership; "I've been a huge fan of Sir Richard Branson and Virgin for years. For Aviation to be chosen as the gin of choice for such an iconic and quintessentially British brand is a complete honour. We look forward to serving Virgin Atlantic guests for years to come and, on a personal note, Sir Richard has promised to teach me the difference between revenue and profit, so I am beyond excited."
We dropped Ryan an email, unfortunately he was "away from his desk", and we received a spirited automated response in his true comedic style:
"Thank you for your email and interest in Aviation American Gin! I'm away from my desk at the moment but will respond the moment they give me a desk.
"About a year ago, I tried Aviation for the first time. Since that day, I've spent my time finding some way to infiltrate the company. I did this for one simple reason: It's the best damn gin on the planet. Period.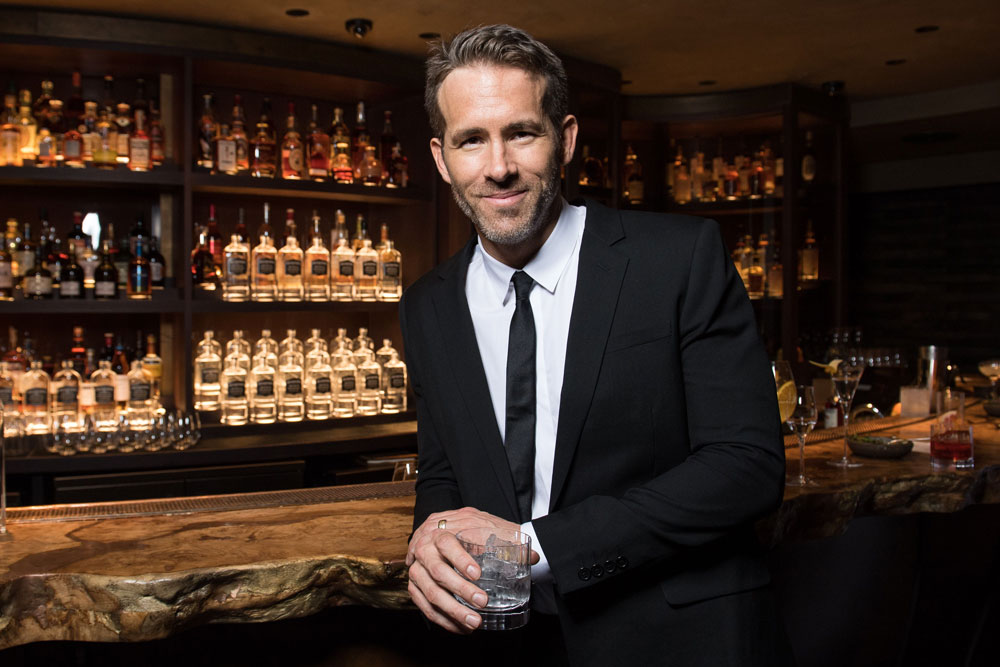 "My responsibilities here at the company are vast. I'll spend my days being photographed intermittently clinching my jaw muscles while pointing at things and nodding. I'll drink Aviation Gin. I'll sit in board meetings, imagining my very own Red Wedding.
"I don't know whose idea it was to allow me into the gin business, but I can assure you, there are smarter, more reasonable people in charge.
"Thank you again for your email… If the matter is urgent, please contact my secretary, Bruce, who'll respond the moment I get a secretary named Bruce."
He signed off the note as "Ryan Reynolds, owner, Aviation American Gin".
Along with the Virgin Atlantic partnership, there are plenty more opportunities lined up for the brand, and with such a huge backing and celebrity endorsements, Aviation Gin is set to make waves in the spirits and cocktails industry.