Located in the heart of Marbella, the Boho Club Restaurant offers an exclusive dining experience that combines exquisite cuisine, elegant decor, and a lively atmosphere. This upscale restaurant is part of the Boho Club, a luxury boutique hotel.
Guests are welcomed by a warm reception, with a glimpse of the the restaurant's stunning interior design. It's inspired by a mix of Mediterranean and North African styles, with a touch of bohemian flair. The space is decorated with natural materials such as wood, stone, and rattan, as well as colourful textiles and intricate patterns. The result is a warm and inviting ambiance that feels both sophisticated and relaxed. There are different seating options, including intimate tables for two and a raised chefs table in the centre of the room for a more social dining experience.
The dancing fire centrepieces of the room glisten off the gloss black marble table tops, creating a mesmerising display. The space really comes alive at night, and the intriguing ornaments such as the monkey and octopus candle holders make for a wonderful talking point, yet nothing seems out of place, no matter how bizarre.

The menu at the Boho Club Restaurant is crafted by Executive Chef Diego del Río, who has worked at several Michelin-starred restaurants in Spain. His cuisine combines traditional Andalusian flavours with modern techniques and creative twists. The ingredients are sourced locally and seasonally, ensuring the freshest and highest quality dishes.
Chef Diego hails from El Lago, a Michelin starred restaurant in Spain, where he gained notoriety for his exquisite culinary artistry. Now, he's a founding member of Marbella All Stars – a collective of dedicated Chefs who have created a manifesto that puts quality, sustainability, and local produce on centre stage.
Starters include options such as creamy burrata with heirloom tomatoes and basil, grilled octopus with black garlic, and foie gras terrine with pear and cinnamon. The mains feature dishes like grilled sea bass with artichokes and saffron, slow-cooked beef cheeks with carrot puree, and truffle risotto with parmesan foam. The desserts are equally impressive, with choices like passion fruit cheesecake with mango sorbet, and chocolate fondant with pistachio ice cream.
Tasting menu
The tasting menu experience is a must. It gives an insightful overview of the range of flavours and unique dishes that have been created by Chef Diego del Río and his team. Adding the wine paring option is also highly recommended.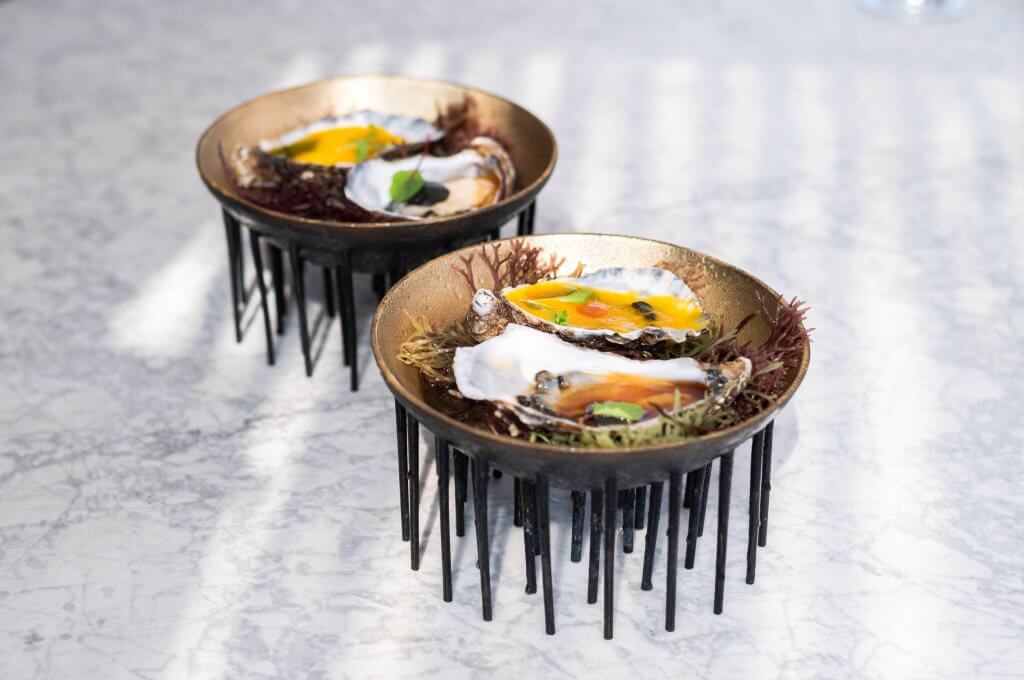 With a seasonal collection of small plates, the preset Menú Degustación serves 8 courses. Combining Andalusian cuisine with Parisian techniques and international flavours, the tasting menu both intricate and artistic, but not overwhelming. Unique pairing of flavours, textures, and even temperatures make for a truly unique culinary experience.
The stand out dishes include the fresh oysters, presented in a ponzu sauce with mango, lemon grass, lime, green salmorejo, apple and celery. The unique flavours make for a refreshing and light yet delightfully tasty pallet cleanser. The sopa de maíz is an intriguing cold corn soup with avocado and pickled vegetables – perfect for the sunny days of Marbella.
We were highly impressed with the tender venison loin, which is paired with a chestnut toffee and spring onion purée. And the crusted sea bass with vegetables and creamy octopus soup is fresh, light, flavoursome and delicate.
The wine list at the Boho Club Restaurant is extensive, featuring both local and international bottles, with a focus on Spanish wines. The knowledgeable staff can help guests select the perfect pairing for their meal. There is a also a collection of Boho's own in-house brand of wines.
Summary
This emerging Marbella restaurant is a must-visit destination for foodies and those seeking a chic and sophisticated dining experience. The combination of exquisite cuisine, elegant decor, and a lively atmosphere makes it a standout restaurant in the area. Whether you're looking for a romantic dinner for two or a group celebration, the Boho Club Restaurant is sure to impress.
The Restaurant is open for lunch and dinner, with both indoor and outdoor seating options. The outdoor terrace is particularly charming, with lush greenery and a fountain adding to the ambiance. The restaurant is also available for private events, including weddings, corporate events, and other special occasions.
In addition to the restaurant, the Boho Club also features a poolside bar, perfect for pre-dinner drinks or a nightcap. The bar serves a variety of cocktails, including classic drinks with a modern twist, as well as signature creations.