The smart phone market is quite limited if you're looking for something luxurious and unique. The choice is usually between an iPhone and a Samsung, but what if you're looking for something different? We bring you our list of the most exclusive phones available today.
Vertu Signature Touch for Bentley
£6,500 – £13,600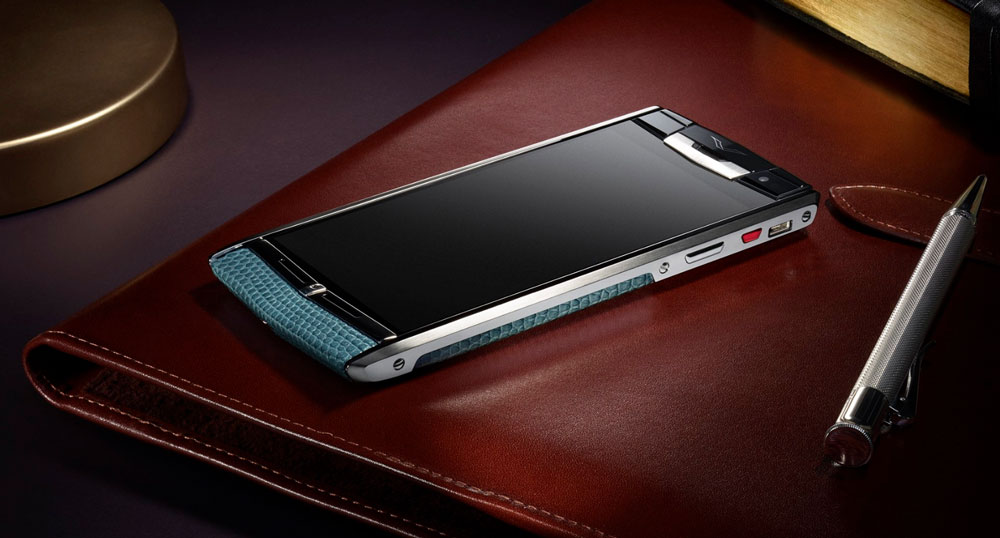 Probably the most well known luxury brand on our list (although no longer in existence). The last offering from Virtu was the result of a long-standing partnership with prestige auto brand Bentley.
The last collaboration between quite possibly the two coolest brands in modern history is the Signature Touch. Originally available in a range of different colour options, the combination of stainless steel meets leather. It is designed to perfectly suit your Bentley, but still looks incredible as a standalone piece.
The specifications are good even by today's standards. Based on Android's operating system and powered by a Snapdragon 810 processor with 4GB RAM. The phone features the exclusive Bentley app, giving access to exclusive content and events.
If you can still find one today, the prices range from £6,500 – £13,600 depending on the finish and specification. In terms of exclusive phones, this tops the list.
Tonino Lamborghini 88 Tauri
£3,700
Another automotive inspired smartphone, the 88 Tauri is crafted by the Tonino division of Lamborghini. It takes design cues and even some of the same features from the raging bulls we know and love. Including scratch and shatter proof glass from the Aventador. And the calfskin leather from the Huracan. luxury materials and form are at the heart of this exceptionally beautiful looking exclusive phone.
Currently sold out on the official Tonino Lamborghini website, you'll be hard pressed to find one of the limited production pieces. But if you do, you'll be the envy of all Lambo lovers you know. We have been exclusively informed that new models are in the pipeline. So keep your eyes peeled for the next launch. The cheaper, less powerful Antares model is still available if you just can't wait.
Running a fully customised version of the Android operating system, the specifications are near identical to that of the Vertu piece. But has some special extra features like dual sim technology and remote gesture control.
Mobiado Grand Touch EM Marble
£2,200
Perhaps not the best looking in terms of its overall design. The Mobiado Grand Touch EM Marble makes it on to our list because of its innovative and unique use of materials. We've never before seen on a smartphone. This example is crafted from a solid piece of stone. Bbut you can also opt for Burl, Cocobolo, Ebony and Granite if you so desire.
Stocked exclusively at Harrods in London, each piece is hand crafted in the company's Toronto head quarters. They and frequently create new lines. Having previously collaborated with the like of Aston Martin, Mobiado are quite possibly the most understated company on our list.
Featuring all the usual features you'd expect in a modern smartphone. The Grand Touch EM Marble boasts an S-AMOLED capacitive touchscreen, 1GB RAM, 16GB internal storage and 5 megapixel camera for good measure.
Sirin Solarin Crystal
From £10,000
Launched in 2016 from tech newcomer Sirin Labs, the Solarin Crystal is their flagship model. At the time was the most expensive smartphone on the market. The focus is security, and features military-grade encryption technology to protect users' calls and messages. Newer models also incorporate a built-in 'cold-storage'wallet for crypto currencies and a whole host of other blockchain features. It is built for a new digital money era.
Beautifully and simplistically designed, the Solarin Crystal is available in four colour and material combination options. Including Black Carbon Leather with Titanium and Fire Black Carbon Leather with Diamond pattern Carbon fibre.
Although it's not the most powerful option on our list, it still packs a punch. Running a 2GHz Qualcomm Snapdragon 810 processor, and boasting far superior WiFi connectivity than standard smartphones.
Gresso Regal
From £4,300
Listed as the thinnest luxury smartphone on the market, the Regal collection is available in both titanium and gold. It has a range of different finishes and coatings. All handcrafted and limited in their production, Gresso pride themselves on a minimalistic style. It seeks the harmony of both form and function.
Hailing from Switzerland and with 11 years experience in the luxury sector, Gresso have gained a lot of traction in the media. They are featured in publications such as GQ and Forbes.
Combining these luxury materials and elegant design with the latest technology means the Gresso Regal collection is our favourite all-rounder. Spec wise it's up with the best of them. Featuring a 1.5 GHz quad-core processor, 2GB of RAM and 32GB storage – all housed in an ultra thin lightweight case. It's brought to life by a bright 5-inch 1080p display.
Goldgenie iPhone X
From £2,997
If the Android OS isn't for you, then this unique piece from British company Goldgenie will fulfil all your Apple desires. Not strickly standalone exclusive phones – rather a gold plated adaptation of the standard iPhone X. The Goldgenie touch really makes a statement.
With a flawless finish and a choice of additional adornments like a custom laser engraving or diamond embellishments. Each phone can be suppled completely customised. Goldgenie also offers a gold plating service for your own phone. Each new phone comes complete with a stunning beautiful hand crafted cherry oak presentation box. There's also a lifetime warranty and clear shield protection.
Goldvish Eclipse
From £5,500
Based in La Chaux-de-Fonds, Switzerland, relative newcomer to the luxury smartphone sector. Goldvish have entered the market with a premium splash with their exclusive phones. Featuring exotic leather and an exoskeleton like housing made from polished steel. This quality looking Android based model looks unique and fabulous.
Handmade in the Swiss village, the Eclipse is available in a range of colours and leathers, with the framework constructed from precious metals. Each unit takes weeks to produce, all hand made to order. With a decent specification and one of the best cameras in our luxury smartphone list. The Goldvish Eclipse can be a proud addition to the lineup, holding it's own against it competitors.
With a Qualcomm Snapdragon 800 series processor with a quad-core 2.5Ghz processor and 3GB of RAM, it's powerful as it is elegant.