Travel enthusiasts have long understood that culinary delights are an integral part of any extraordinary voyage. Whether you're unwinding during a luxurious staycation amidst the picturesque landscapes of the United Kingdom's charming towns and cities or embarking on an adventure to some of the world's most secluded corners, one can always discover an unforgettable dining escapade.
From savouring the briny perfection of freshly shucked oysters and sipping on effervescent Welsh wine while gazing upon the resplendent Pembrokeshire coastline, to experiencing rich Moroccan cuisine against the majestic backdrop of the snow-draped Atlas Mountains, and even dining beneath the star-studded Arabian night sky in Oman. The Executive Magazine has meticulously curated an exquisite selection of peerless dining experiences and venues, each set against the backdrop of some of the world's most mesmerising destinations.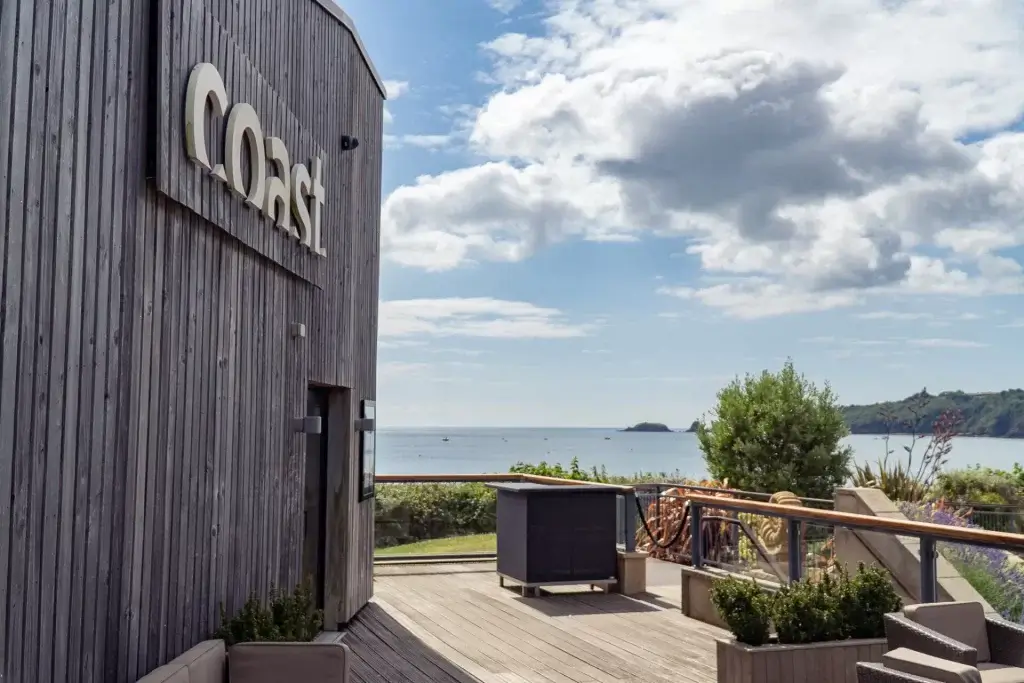 Beachfront Dining at Pembrokeshire's Coast, Wales

Coast in Saundersfoot, a Seren venue, is now home to Pembrokeshire's newest seafront bar, Teras Bar, offering guests an unrivalled al fresco experience. Effortlessly blending both land and sea, Coast's natural setting is reflected in its striking curved architecture, interior design, and most importantly, its mouth-watering menu. Teras Bar is the ideal space to enjoy drinks and easy food and the coastal breeze, while relaxing beachside on the golden sands of Coppet Hall.
Known for his passion for sustainability, Head Chef Fred Clapperton has partnered with local suppliers to craft a tantalising bar menu, comprising locally-sourced Pembrokeshire oysters, Welsh cured meats, and delicious Welsh cheeses, not only to offer fresh ingredients and the finest of Welsh cuisine, but to celebrate locally-sourced produce and the local community. The freshly shucked oysters served on the new waterfront terrace are sustainably produced in local Pembrokeshire seagrass beds. Guests can sip on a refreshing glass of Welsh sparkling wine, Champagne, and craft Welsh beers and ciders, or maybe a refreshing cocktail, while sitting back in the summer sun.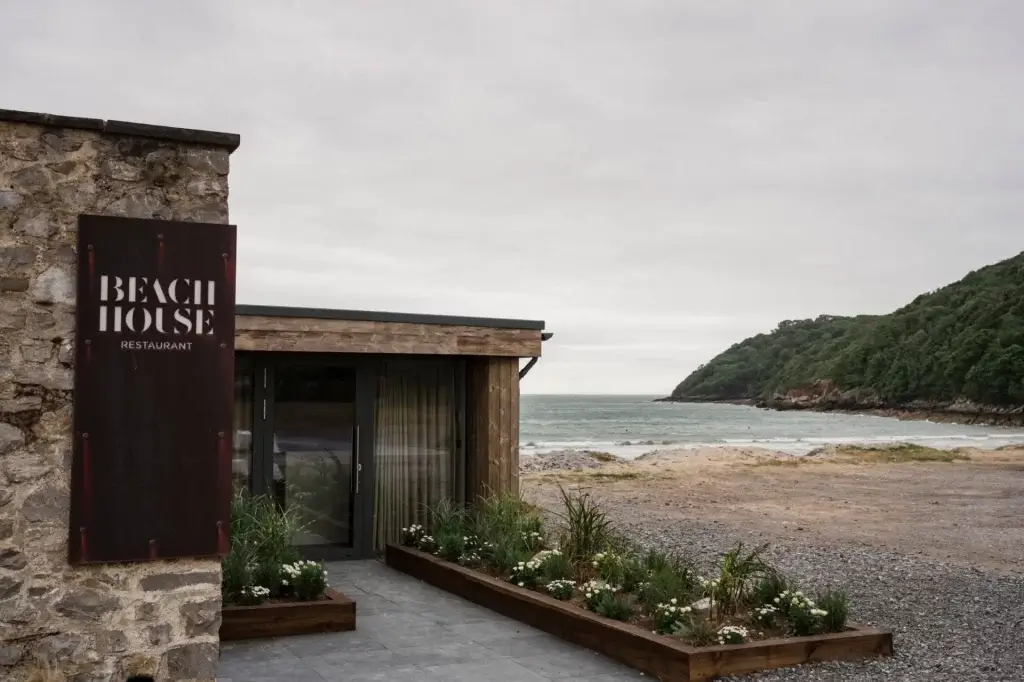 Michelin Star Beach-Side Dining Beach House, Oxwich
Situated on the idyllic coastline of Oxwich Beach and headed up by Chef Director Hywel Griffith, Beach House has earned its reputation as one of the finest dining establishments in Wales since its launch in 2016, holding 3 AA rosettes and a Michelin Star. These accolades are a testament to the quality of food and service at this beautifully designed restaurant, nestled high on the sand a stone's throw from the water. Housed within the rugged stone walls of the old coal house that stood before it, its rustic nature is in keeping with the coastal surroundings.
Hywel's menu has been carefully curated to encompass the very best local produce. He invests time in selecting quality producers to showcase the full flavour of ingredients from across Wales, and in particular on the doorstep in the Gower, building strong close relationships with his producers, farmers and the artisan food community to deliver a true taste of Wales. Guests can enjoy three, six or eight course tasting menus, speciality wines and cocktails, and Beach House's stylish new lounge is the perfect place for a post-dinner drink as the sun sets behind Oxwich's dramatic dunes.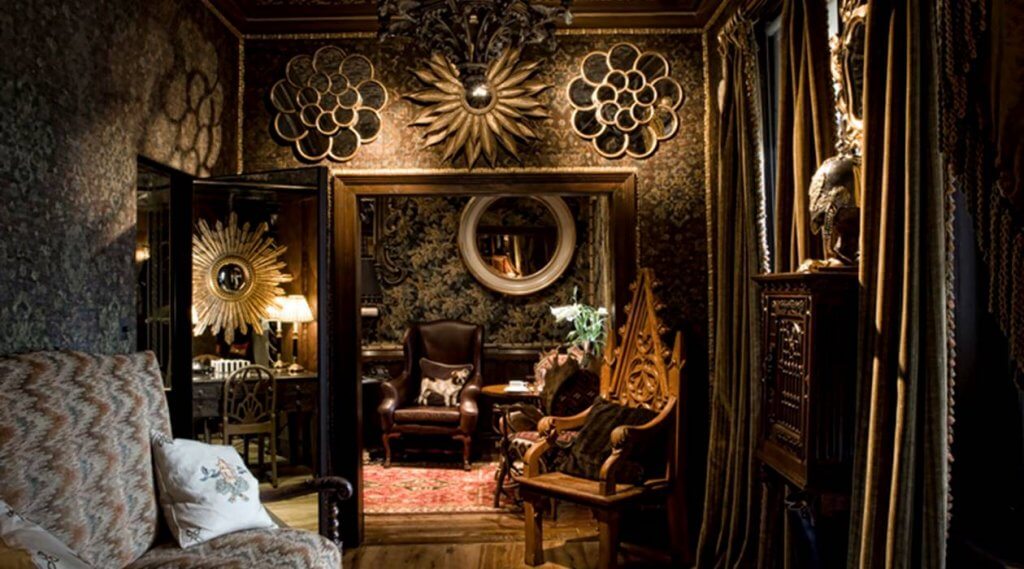 Dine amongst gothic history in the heart of Edinburgh at The Witchery
James Thomson's The Witchery is the most spectacularly atmospheric dining destination in Edinburgh. Now in its 5th decade, the stunning décor, unique antiques, legendary food, and award-winning wine list have ensured The Witchery has become a much-loved, renowned Edinburgh institution. It invites guests to indulge in the rich baroque surroundings of the original oak-panelled dining room, or amongst the elegant candle-lit charms of the Secret Garden dining room, both adorned with antiques and originals. Its unique features include a hand-painted ceiling and a secluded terrace, enabling guests to dine in the utmost luxury.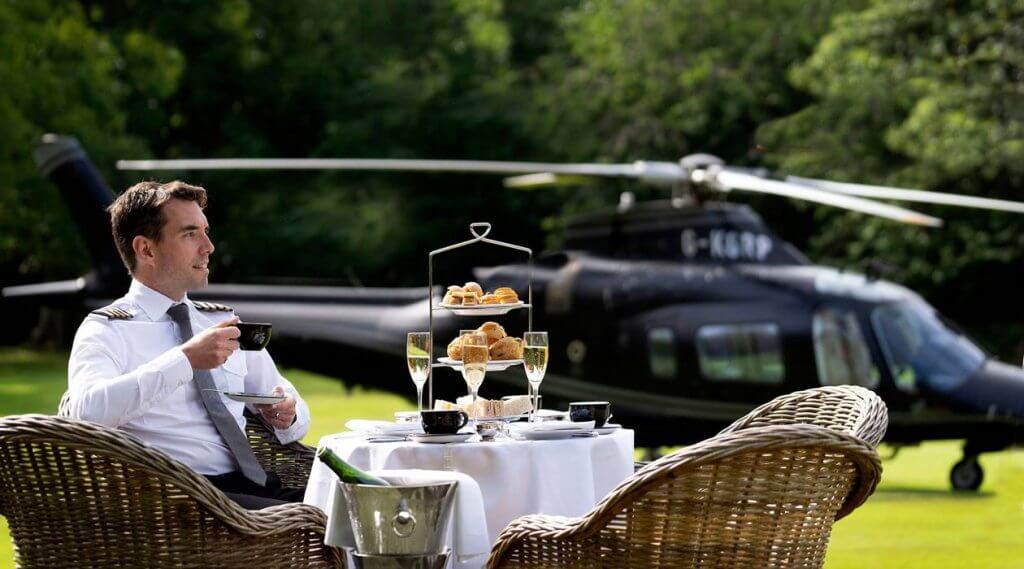 Enjoy opulence, theatre and luxury at Rhubarb Restaurant, Prestonfield House
Opulence, theatre, and luxury are combined at Prestonfield House, a unique 5-star hotel in one of Edinburgh's finest historic buildings, dating back to the 17th century. Just five minutes from Edinburgh city centre, James Thomson's Prestonfield House is Edinburgh's most exclusive luxury hotel, offering the privacy and seclusion of a country estate right in the heart of Edinburgh.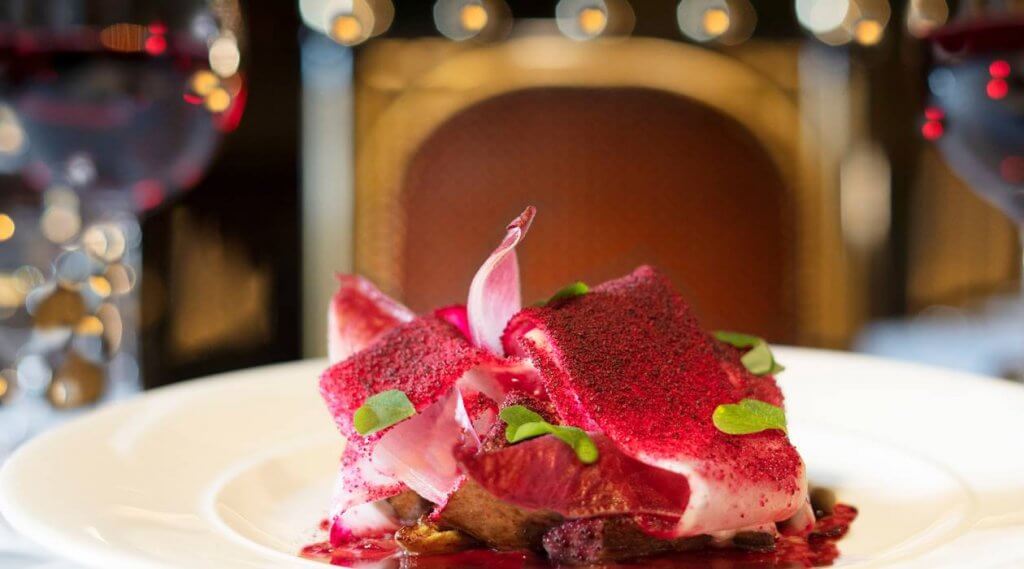 Rhubarb Restaurant
Prestonfield House's restaurant, Rhubarb, is one of James Thomson's fantastic destination restaurants and the most luxurious to date. Wickedly rich and dramatic, the stylish and glamorous Rhubarb restaurant occupies grand Regency rooms at the heart of the hotel. Rhubarb delivers all of the gourmet delights and romance you would expect from the creator of The Witchery.
Menus feature some of the freshest seasonal Scottish produce, locally sourced from small artisan suppliers. Prestonfield was the first estate in Scotland to propagate rhubarb in the eighteenth century, and it is still grown on the estate and used in their kitchens today – making Rhubarb Restaurant not one to miss!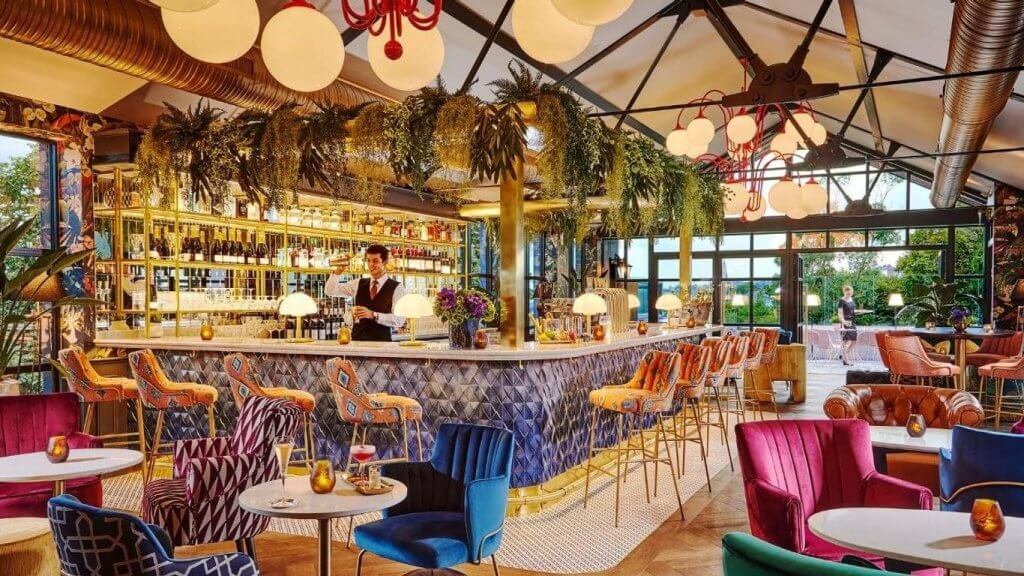 Take in the stunning sights of Cork at The Montenotte's Panorama Restaurant
A stylish restaurant with a vibrant atmosphere and eclectic touch, The Montenotte's Panorama Restaurant blends New York cool with Parisian chic, creating an experiential dining scene that evokes all of the senses. Open daily for lunch and dinner, the seasonal menu celebrates fresh ingredients and local Irish produce, bursting with natural flavour. European in style with international influences, the menu has been created by recently appointed Executive Chef Rudi Liebenberg. The South-African native brings a worldly palate with an array of dishes drawing inspiration from his homeland and Europe, catering to all tastes and preferences. Underpinned by a conscious approach to cooking, Rudi is focussed on zero-waste with an elevated offering for vegetarian and vegan guests.
Guests can also opt for a visit to the Panorama Terrace, perfect for a mid-afternoon tipple or post dinner drinks. The lush, luxurious outdoor oasis offers stunning views, overlooking the River Lee and the hotel's Victorian Gardens. Warm and inviting no matter the weather, sink into a cosy couch with an award-winning rosé or elevate the view at a high-top table with a refreshing spritz cocktail.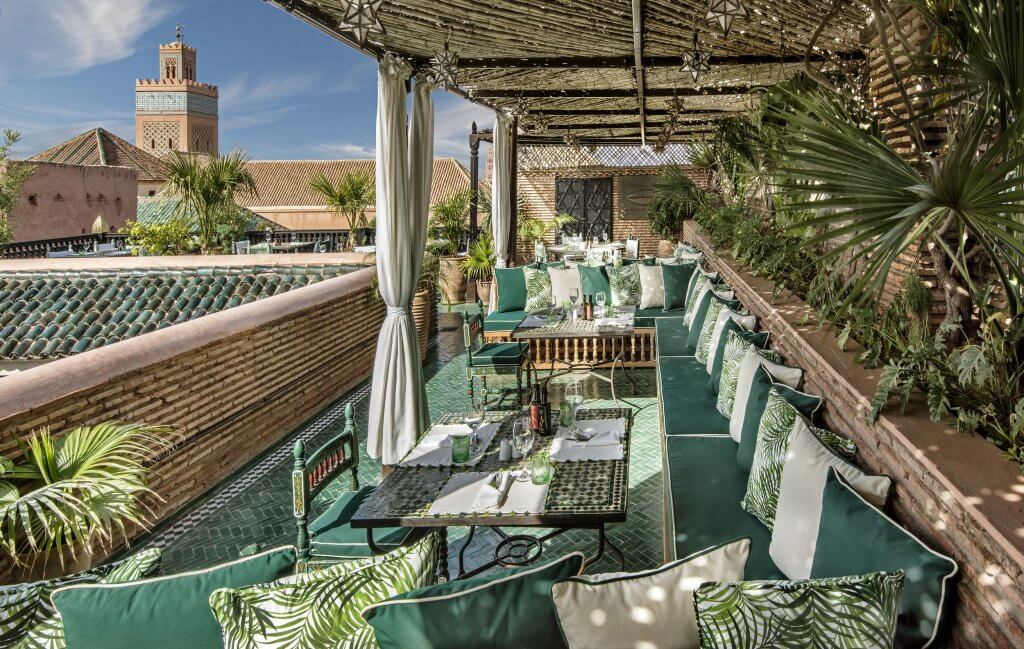 A Romantic Rooftop Dinner at La Table du Souk, La Sultana Marrakech
Located on the landscaped Bahia terrace rooftop, La Table du Souk offers stunning views as far as the eye can see of Marrakech's historical monuments, the Moulay El Yazid Mosque and the snow-capped Atlas Mountains. With traditional design aesthetics including Zellige tilework on the tables and soft green banquettes, La Table du Souk is an oasis of calm in the heart of Marrakech, a secret place for Medina lovers to enjoy a delicious lunch of simplicity and freshness served in an elegant and romantic atmosphere.
Guests can choose from two menus: The 'From the Market' menu showcases the chef's creativity and curiosity in sourcing ethical and seasonal produce to create exceptional Moroccan dishes. Highlights include; Red beetroot cooked in a salt crust served with beetroot and orange soup flavoured with anise and cinnamon; and beef rib steak with home-made potato puree with Argan oil. 'The Street Food' menu recalls Moroccan rituals and cultural traditions, offering many light options perfect for al-fresco dining including seasonal Moroccan salads, tagine and grilled fish and meats. Highlights include; cooked crust snails in broth babouche mode; and the speciality of the neighbourhood, charcoal grilled fish or meat.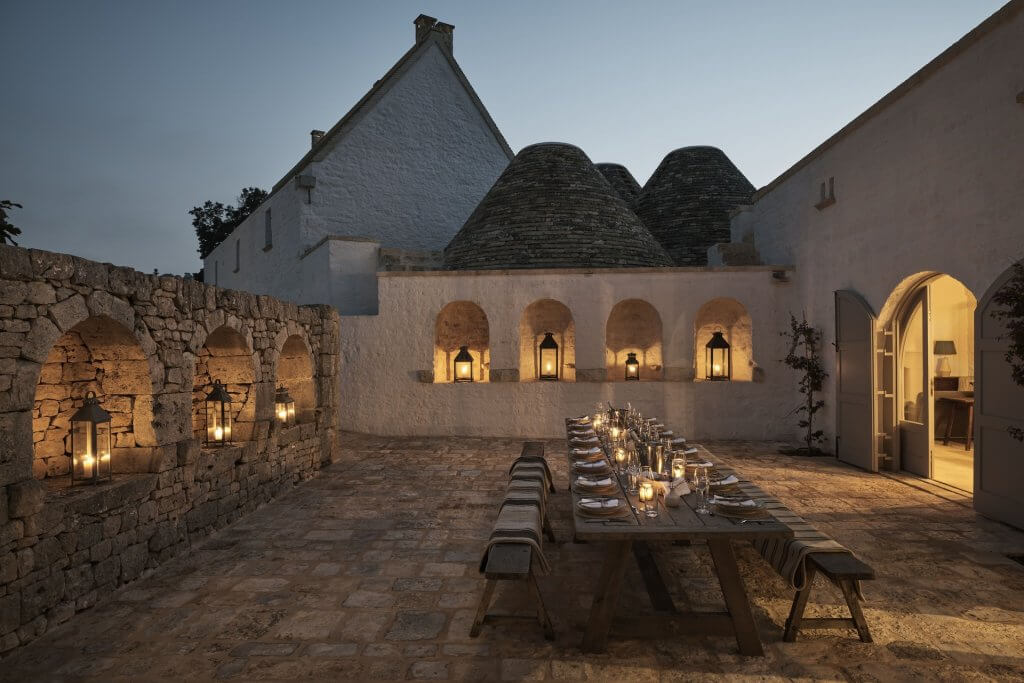 Indulge in Puglian Delicacies at Masseria Pistola, Italy
Set in a prominent position within a picturesque estate, offering stunning views across the beautiful Canale Di Pirro Valley in Puglia, lies Masseria Pistola, a magnificent and stylish 10-bedroom family home. With 300 days of sunshine each year, Puglia is known for its spectacular and unspoilt landscapes. Its endless coastlines, rolling hills, charming villages, and incredible wine and delicacies are just some of the highlights on offer, posing no better place for unforgettable dining experiences.
Whether it be a special brunch with family and friends under the morning spring sun, or a romantic dinner in the warm autumn evening breeze, guests can enjoy an array of colourful plates and local Puglian delicacies. Chef Luciano uses fresh ingredients sourced from Masseria Pistola's grounds, and offers guests the chance to enjoy the estate's very own wine.
What makes Masseria Pistola so special is the four hectares of private gardens that surround the house in every direction. The Mediterranean aromatic plants populate the private walled gardens of the Masseria, creating wonderful spaces to walk and enjoy. For those wanting to explore or exercise, Masseria Pistola benefits from being close to the Ciclovia, a 50 km stretch of bicycle pathways that winds through the Valle D'Itria. Constant takes a keen interest and works closely with the team to ensure this is an all-year-round garden.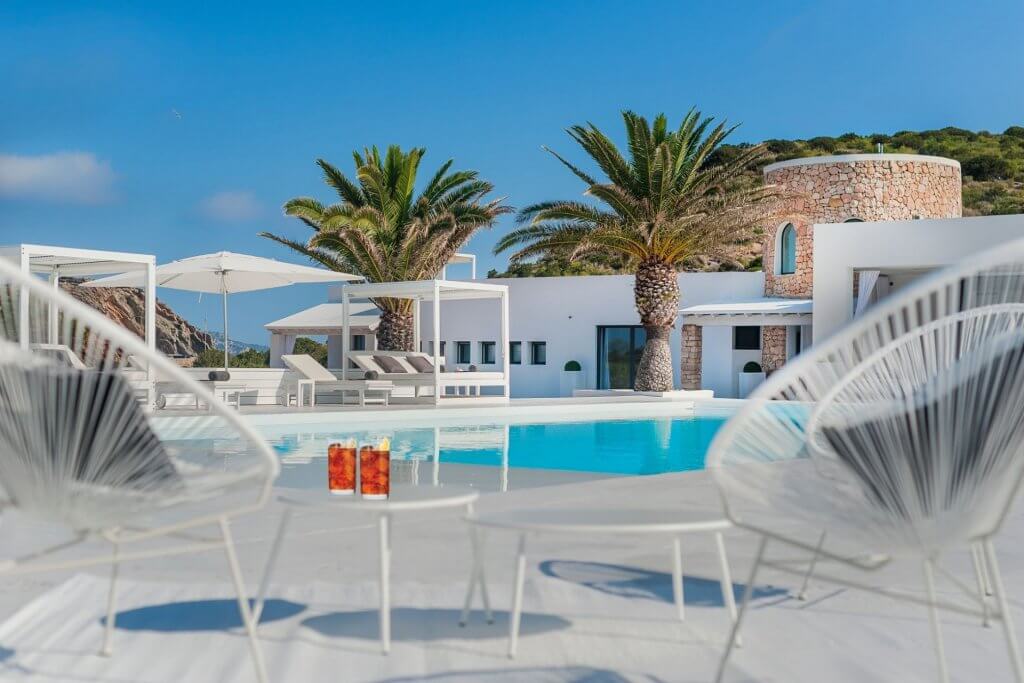 Dine on a Private Island with The Luxury Travel Book
Dining in a private villa already provides guests with the luxurious intimacy that is sometimes needed. Family villa specialists, The Luxury Travel Book's exclusive villa Tagomago offers a far more exciting alternative; a private island.
Tagomago, near Ibiza is situated on its own private island just 900m from the north-east coast. In a stunning natural environment, guests here will enjoy total privacy and high security, as well spectacular sunrises and sunsets. Guests can arrive on Tagomago by tender-boat in just 5 minutes from the bay of Pou des Lleo, situated in the North-East coast of Ibiza. The tender-boats are at the disposal of guests 24 hours a day. Ibiza town can be reached in 35 minutes and the famous hippie market of San Carlos in 15 minutes.
Equipped with its own private chef, guests can enjoy the luxuries of an exclusive meal while looking across at stunning Mediterranean views that span right across to Ibiza. For guests who are looking for a unique dining experience but who aren't interested in the hustle and bustle of a restaurant, Tagomago is perfect – included with a private butler service.
Dine in the Oman desert with Wild Frontiers
For those looking for an al-fresco dining experience, guests can abandon the parasols for a desert sky on adventure tour operator Wild Frontiers' 'Oman Desert Adventure: Wahiba Sands & Empty Quarter' tour. Oman is one of Arabia's true gems – a land of rugged coastlines and vast deserts where tradition and progress go hand in hand.
This wonderful adventure takes guests from the heart of its picturesque capital, deep into mountains and deserts of the Bedu and the old Omani Imamate. The tour will take in the breathless landscapes of the Hajar Mountains and the shifting sands of Wahiba, explore the old forts of Jabrin and Nizwa and journey into the vast emptiness of the Rub Al Khali, the Empty Quarter. It is here that guests will dine under the stars and drive to where the desert meets the ocean and enjoy a delicious al fresco dinner on the beach. This is a journey of incredible contrasts, following in the footsteps of the pioneering explorers of old and taking in some of the richest natural and cultural highlights that Arabia has to offer.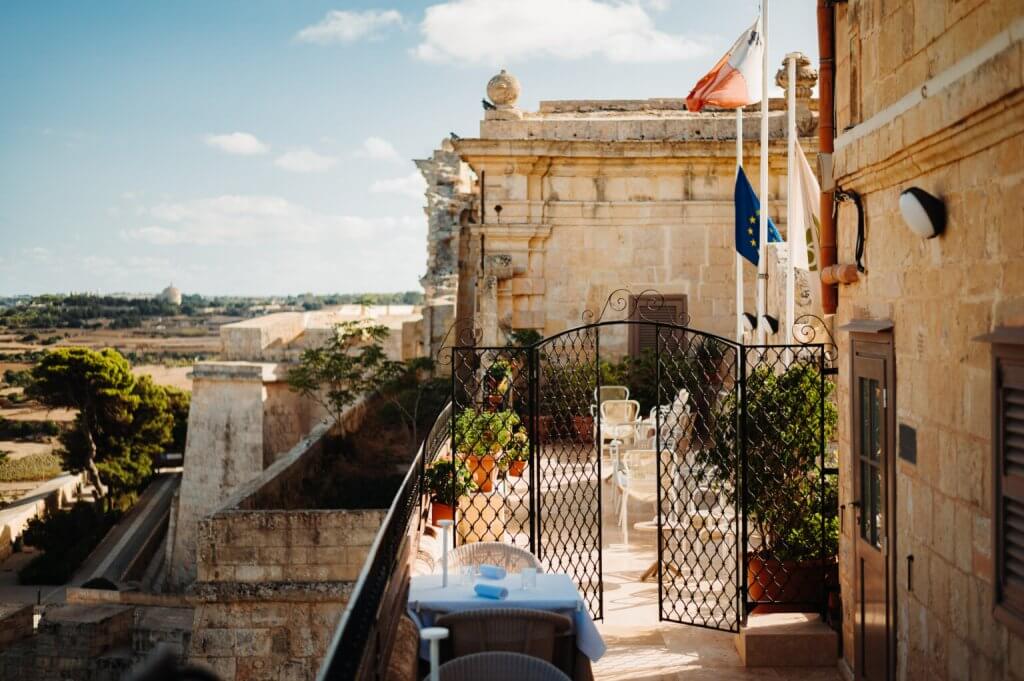 Dine in Michelin luxury overlooking breath-taking views of Malta at The Xara Palace's De Mondion
Set in the bastion walls of Malta's Mdina and on the rooftop of five-star boutique hotel, The Xara Palace, De Mondion offers breath-taking views of the island and soul nourishing cuisine made from seasonal produce. Led by Chef Clint Grech and the talented service teams, De Mondion presents soul nourishing cuisine, refinement, and excellent restaurant views.
The seasonal and locally grown produce used at De Mondion is skilfully transformed and masterfully presented. The care and attention to each dish reveals the individual chefs' inspirations with Mediterranean, local, sustainable, and fresh ingredients, with a nod to traditional French cuisine. De Mondion also boasts a contemporary wine list, with recommendations by a wonderful sommelier will ensure a perfect pairing to each dish. The restaurant is further enhanced by exceptional service and stunning panoramic views of the island.
Earlier this year, De Mondion retained its Michelin Star for the fourth year running – Executive Chef Clint Grech comments; "Once again our team has shown that our passion, dedication, and creativity can be rewarded. I could not be prouder of my team, who have a hunger to keep building and improving themselves and a maniacal focus on detail. They are a pleasure to watch and the best team I could hope to work with."
Sample Italian delights across Rome's red roofs at Rhinoceros Roma
Set in the heart of Rome's historical centre, Rhinoceros Roma was established by Alda Fendi of the prestigious fashion dynasty in 2018 and designed by world renowned French architect, Jean Nouvel. The boutique establishment features a modern, industrial vibe where new-meets-old design details through the use of juxtaposing materials as well as state-of-the-art apartments within an Avant Garde art gallery that houses some of the world's best installations and exhibitions – including Picasso and El Greco. Home to 25 apartments, Rhinoceros Roma provides a haven for guests with a professional or amateur relationship with arts, literature and sciences. This summer, Rhinoceros Roma has unveiled a new restaurant concept on its expansive rooftop terrace – combining great views over the red roofs of Rome and delicious cuisine. The perfect place to enjoy a lunch or dinner with friends, family or loved ones!
Conveniently situated, Rhinoceros Roma is near many of Rome's most beloved sites including The Colosseum, Circus Maximus, Venice Square and the Spanish Steps. The apartments are fully stocked with a fully functioning kitchen, state-of-the-art technology and luxury amenities. Each morning guests can enjoy a breakfast hamper complete with delicious Italian treats.