With Valentine's Day fast approaching, we share the most romantic stays to book this season. From cosy boltholes to seaside hideaways and castle escapes, there are hotel stays and packages to suit every couple for a romantic weekend spent together.
Experience a Romantic Valentine's Luxury Getaway at The Montenotte Hotel
Love is all around on Valentine's Day, and this year guests can make it extra special for their loved ones with a romantic luxury experience at The Montenotte Hotel. Nestled within the hotel's exquisite surroundings, guests will follow the lover's trail in Victorian gardens, and enjoy the most spectacular views of Cork as they watch the sunset on the Panorama Terrace or in The Glasshouse rooftop bar. To celebrate the day of love, The Montenotte Hotel has curated a perfectly romantic Valentine's Package, so guests can experience these delights wrapped into one stay. This offer includes: 
A two-night stay in an executive room with a sumptuous full Irish breakfast on both mornings
A bottle of Laurent Perrier Champagne and a beautiful gift from Grá Chocolates in the guests' room upon arrival.
Valentine's dinner for 2 on the evening of their choice
A 60-minute Bellevue Spa treatment
A private film screening with a movie of guests' choice on Saturday 11th February or Sunday 12th February
A personal one to one with our mixologist, who will create a very own bespoke Valentine's cocktail of your choice in The Glasshouse
Valentines turndown service on both evenings
A visit to Cork city for a personalised shopping experience in Brown Thomas with their personal shopper Fiona, and a scheduled visit to Keane's Jewellers for a personalised 1:1 experience
---
A Romantic Sunshine Break with Dolce Sitges
With 300 days of sunshine a year and spectacular views of the sea and the town of Sitges, Dolce Sitges is a true oasis of Mediterranean luxury. The hotel's surrounding seascapes provide beautiful shades of blue turquoise that inspire the textures of each of the 263 rooms and suites, as well as its exclusive restaurants and designer bars, where guests can savour the essence of the Mediterranean through a tribute to local, seasonal produce. For a romantic getaway this Valentine's day, guests can enjoy the 'Oasis Love' package with a relaxing massage, romantic three-course dinner and an in room bottle of cava all included. On February 11th and February 14th, the hotel are putting on a special Valentine's Day menu with highlights including; Foie ravioli with creamy porcini sauce and black truffle pearls, beef tenderloin with café de Paris sauce, calçots and pumpkin puree, and strawberries with chocolate and roses for desert. 
Dolce Sitges's wellness sanctuary, the Dolce Vital Spa, draws its inspiration from the sea to present an experience of total calm. With 7 treatment rooms, a heated indoor pool, Jacuzzi, Finnish sauna, steam room, ice fountain and a renovated gym equipped with the latest Technogym technology, the wellness area is the perfect place for couples to be immersed in peace, with magnificent views of the Mediterranean Sea.
---
A Fairytale Escape to Glenapp Castle, Ayrshire, Scotland
Glenapp Castle is a 21-bedroom luxurious castle hotel tucked away on the breath-taking Ayrshire coast, Scotland. The castle is hidden away in 110 acres of stunning gardens and woodland and the many turrets and crenellations make it the perfect fairytale-like setting. Couples can spend their evenings immersing themselves in some spectacular stargazing whilst also enjoying a special Glenapp 'tiddly' hot chocolate, cosy blankets, night binoculars and hand warmers – this is sure to be a dreamy experience. The hotel is situated beside the local Galloway Forest Park and is one of the only four 'Dark Skies Parks' in Europe and so guests of Glenapp Castle are fortunate to experience the same expansive skies from the comfort of the Castle's Victorian Walled Garden with a local astronomer on hand to guide guests through the millions of constellations clearly visible on clear nights with the chance to also spot the Milky Way or even the mesmerising display of the Northern Lights!
Glenapp Castle is also offering a special All you need is love! offer this Valentine's Day. This includes two nights accommodation in one of the hotel's magnificent castle suites, a bottle of Champagne, a delicious cream tea, a candlelit three course dinner and a rose petal turndown on one evening.
---
A Cosy British Bolthole at The Bradley Hare, Wiltshire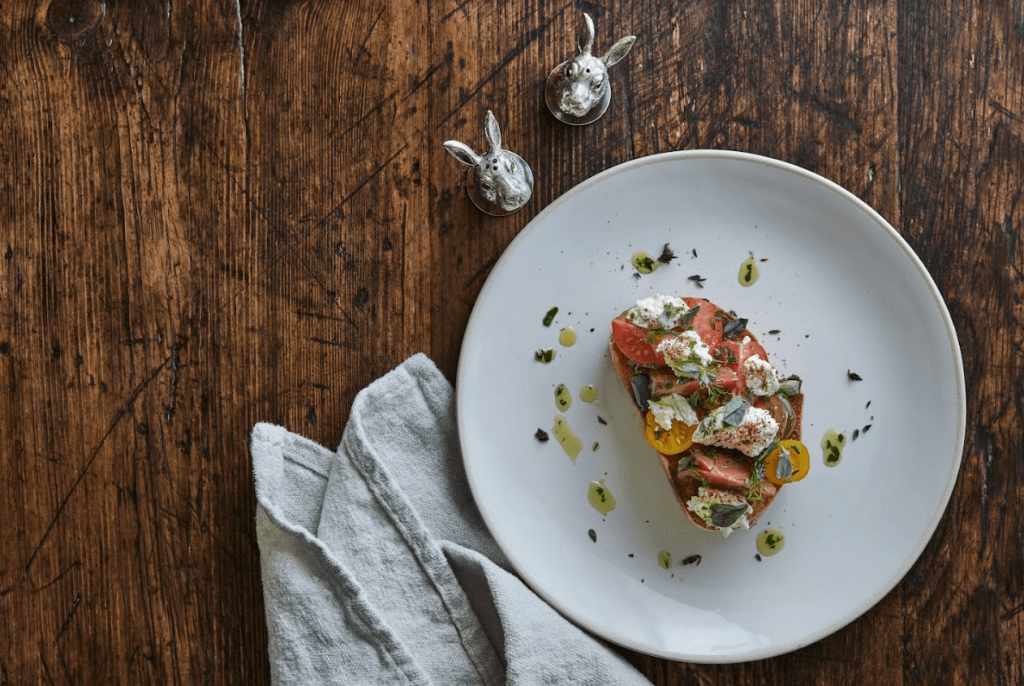 The Bradley Hare, a cosy country inn, situated in the beautiful village of Maiden Bradley in southwest Wiltshire. Located on the Duke of Somerset's Estate, The Bradley Hare, has twelve homely and unique bedrooms, seven in the main house and a further five in the Coach House. Couples can expect a really romantic and stylish stay here, as James Thurstan Waterworth, ex-European Design Director for Soho House, has overseen the interiors. Each bedroom promises to be unique with 18th & 19th century antique furniture and including distinctive fabrics repurposed and used for the headboards. Some of the bedrooms in the main house will feature English traditional wallpaper whilst the five bedrooms in the Coach House will feature slightly larger bedrooms with more pared back and tranquil interiors. All of the rooms will offer guests those sought-after home from home comforts, some with vast elegant freestanding baths and all with sumptuous beds and linens, fit for a duke or duchess.
For those who are able to be torn away from the gorgeous freestanding baths, the sumptuous beds and linens, or the candle lit dinners, why not enjoy romantic strolls around the estate or even the splendid and romantic 18th century world-famous Stourhead gardens. Guests can also take a visit to The Potting Shed, The Bradley Hare's secluded boutique beauty studio hidden within the grounds of Bradley Park.
---
Experience the romance of the pink city at La Sultana Marrakech in the treetops at La Sultana Oualidia
With its pink walls, stunning sunsets gorgeous gardens and labyrinth of souks, the romance and mystique of Marrakech is second to none and La Sultana Marrakech is arguably one of the most romantic riads in the city, providing an oasis of calm, away from the bustle of the Kasbah. Located within the Imperial City's walls, La Sultana Marrakech comprises five raids, cleverly blended to house 28 luxury bedrooms and suites, each of which features a Moroccan maximalist style.
Set high above the souks, the leafy rooftop terrace is the perfect setting for lovebirds to unwind and watch the desert sunset over the Atlas Mountains or to learn to cook authentic Moroccan cuisine with an introductory cookery course. The spa includes two amazing hammams, a jacuzzi, sauna, balneotherapy baths and massage cabins in the open air.
Lovers can combine this with a trip to sister hotel La Sultana Oualidia. Situated by a lagoon on the Atlantic Coast of Morocco, halfway between Marrakech and Casablanca, the boutique hotel is made of 12 individually designed suites. For a truly unique and romantic experience, honeymooners can choose to stay in the Treehouse Suite where couples can sleep in a vast treehouse, hidden among dense and fragrant foliage. With its own private beach, the hotel offers couples private alfresco dining experiences, such as a traditional berber tent and beach picnics. Sundowners can be enjoyed from the decked infinity pool – ringed with Jacuzzis, sun loungers and daybeds – which offers panoramic views over the lagoon and sea.
---
Perivoli Lagoon House, Overberg Region (8 Guests, 4 Bedrooms) 
The Perivoli Lagoon House is a 4-bedroom luxury villa set in a Fynbos biome, isolated in a 140-hectare wilderness, near the Kleinriver lagoon offering a luxury getaway with panoramic views of the Lagoon and the Kleinriver Mountains with hiking trails on your doorstep and 18km of perfect beachfront in South Africa. The luxury villa rental offers the use of mountain bikes and kayaks for an unforgettable vacation.
The ultra-contemporary luxury villa provides a haven of complete privacy on the water. Interiors featuring tasteful African-sourced artefacts and artwork, and a heated infinity pool and a large deck overlooking the lagoon and its birdlife. There's an interactive kitchen with state-of-the-art appliances, with separate scullery and laundry room & a herb garden, as well as a dining area that boasts ample space for hosting. as well as a spacious free flowing entertainment area with glass doors and windows, with breathtaking views of the lagoon. Equipped with ceiling fans, underfloor heating, fireplace, and eco-friendly pellet stoves the South African villa rental caters for all weather while on holiday.
---
Mountain Villa, Cape Winelands (Sleeps 12 / 6 Bedrooms)
Situated at the foot of the Simonsberg Mountain with views of the entire Franschhoek Valley, this is a very private wine farm villa, with a stunning large terrace that wraps around the whole property. An open plan dining area, perfect for entertaining, opens onto the pool deck where wonderful views can be enjoyed. There is also an outside bar area, brai and pizza oven. The villa also has well maintained gardens and lawns with a large swimming pool and a lake.
With access to this historic wine farm, guests can join experienced guides on a morning farm tour, or explore the wine estate on foot. There are also world-class mountain biking and hiking trails to be explored, beautiful dams to swim in, and plenty of opportunities to relax and enjoy the splendour of the natural surroundings. For young children there is a Tree House playground, and farm experiences are also offered to children under the professional guidance of the estate's 'Tree House' team.
The estate also has a restaurant, the Werf Restaurant, where guests can enjoy delicious local and ethically prepared meals – and also a bar menu offering signature cocktails, a fine selection of wines and a delicious array of bar snacks and farm plates. Wine tastings for the estate's wines can also be arranged.
---
Unveiling Masseria Pistola, Puglia's Newest and Most Exclusive Family Home and Estate
With 300 days of sunshine each year, Puglia is known for its spectacular and unspoilt landscapes. Its endless coastlines, rolling hills, charming villages, and incredible wine and delicacies are just some of the highlights on offer. As of winter 2022, the destination will be known as the home of Masseria Pistola, a magnificent and stylish 10-bedroom exclusive home that sits in a prominent position within a picturesque estate, offering stunning views across the beautiful Canale Di Pirro Valley in Puglia, Italy. Hidden within a 30-hectare estate and surrounded by stunning gardens, Masseria Pistola is brimming with charm. For couples looking for privacy, the Trulli Cottage is a beautifully secluded and romantic hideaway. Here guests will find the master suite, with a double bedroom, sumptuous bathroom and walk-in shower, a living room, walk-in dressing room and a second double bedroom. It comes equipped with a kitchen, shaded terrace and garden with a private plunge pool. Each of the property's bedrooms feature grand roll top baths, fireplaces and walk in showers. There is the property's large swimming pool that is heated in the winter months and surrounded by a large deck with sunbeds. What makes Masseria Pistola so special is the four hectares of private gardens that surround the house in every direction. The Mediterranean aromatic plants populate the private walled gardens of the Masseria, creating wonderful spaces to walk and enjoy.
---
Malta's Magical Mdina with The Xara Palace, Relais & Châteaux
The enchanting island of Malta is a truly magical destination for couples looking to celebrate their love abroad, as its Mediterranean majesty is showcased through stunning scenery, rich history and sublime architecture. From sunset views over the Dingli Cliffs and St George's Bay, quiet strolls around the beautiful Barrakka Gardens, to the romance of Malta's many secluded beaches and bays – it's difficult not to become immersed in Malta's charms.
There is no better destination for couples to explore Malta's charms than The Xara Palace, a unique 17th-century palace hidden away in the medieval fortified city of Mdina, the old capital of Malta. Perched on centuries-old bastions, surrounded by stunning baroque architecture, The Xara Palace Relais & Châteaux, with its luxurious accommodation and award-winning haute cuisine, is truly a haven in which to pause and be pampered. Meticulously and sensitively restored to reflect its former noble standing, the exclusive 5-Star boutique hotel boasts 17 luxury rooms and suites enjoying stunning views, all individually and tastefully designed with antique furniture and paintings, luxurious Parisian fabrics and king size beds. 
---
Romance in Style at Rhinoceros Roma in Rome 
A heady mix of vibrant street-life, cobbled streets and awe-inspiring art, Rome is undoubtedly one of the world's most romantic cities. Love has always been part of the story of Rome, with the single largest temple in the Roman Forum being dedicated to Venus and Roma: the goddess of love and the goddess that personified the city. Couples can partake in all of Rome's romantic archetypes – explore its grand monuments and resplendent piazzas with a loved one, or flipping a coin in the Trevi fountain over a shared gelato.
Set in the heart of Rome's historical centre, Rhinoceros Roma was established by Alda Fendi in 2018 and designed by world renowned French architect, Jean Nouvel. The boutique establishment features a modern, industrial vibe where new-meets-old design details through the use of juxtaposing materials as well as state-of-the-art apartments within an Avant Garde art gallery that houses some of the world's best installations and exhibitions. Home to 25 unique rooms from studio apartments to penthouse suites, Rhinoceros Roma provides a haven for guests with a professional or amateur relationship with arts, literature and sciences. 
---
The Ultimate Romantic Gesture of a Private Jet Getaway with Flexjet
With no airport delays and the luxurious comfort and privacy of your own cabin, a private jet flight offers the perfect Valentine's Day gift or getaway. Whether a flight to Paris for a classic weekend away in the City of Love or to gift their loved one a getaway with friends, Flexjet goes the extra mile to make every flight extraordinary for its Owners and guests. From sourcing rare varieties of peonies and sweet peas, or delicacies unique to small regions of the world to enjoy onboard, to surprise trips with bespoke cocktails and pre-recorded messages from loved ones played on the cabin screens. For some Owners, their greatest love is their pets and, with Flexjet, dogs, cats and more can travel in the cabin, where they are given the same level of care as human passengers – including personalised treats, blankets and toys.