The Brazilian Court is a true hidden gem. Privacy is one of the more prominent aspects of this 5 star resort. It's played host to some of the most high profile figures, from black-and-white era movies stars, to modern day royalty. Tucked away in an unassuming street just minutes from the golden sands of Palm Beach. With minimal signage, and just a small valet driveway hinting to its secluded location, the resort is easily missed.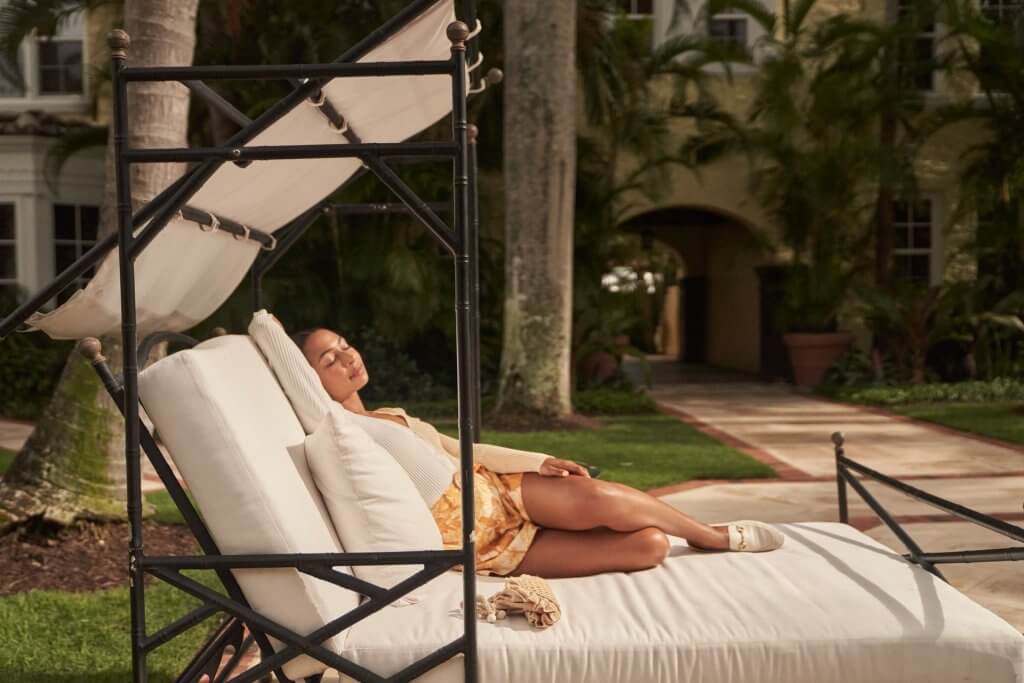 The majestic Mediterranean-style boutique was built in 1926 by architect Rosario Candela. A recent renovation has seen brand new rooms and amenities added to the resort, but the modern aesthetic still stays true to the nostalgic, glamorous feeling of the hotel. Seventeen suites are named after the hotels more prolific guests, such as Audrey Hepburn, Humphrey Bogart and Rita Hayworth.
The Brazilian Court is steeped in history. During the golden age of cinema, stars of the screen would often slip away from movie premiers and theatres to find solace in the resort.
Elegant Spanish Colonial styling mixed with contemporary Palm Beach chic makes for a unique experience. The intimate settings, chic decor and effortless charm oozes sophistication. It's the perfect combination of function and form, even for the most seasoned glamorous wanderlust.
Amenities
Once greeted by the friendly staff, the reception area opens out to a central courtyard. As guests are escorted to their room, they're lead through a stunning tropical courtyard, with Café Boulud at its epicentre. With lots of outdoor seating, alfresco dining, drinking and relaxing is encouraged. As you explore the warm, sea breeze filled grounds, you'll find hidden corners with comfortable cabanas, a secluded, palm-fringed pool and a private Jacuzzi. Staff are always on had to cater for any request, but are never obtrusive.
Experiences and activities are also available to guests. The adorable electric bicycles are a fantastic way to explore the Palm Beach coast line. Pack a picnic into the baskets and whisk yourself away, or try the VIP beach experience for a romantic private getaway.
The resort also makes for a fantastic wedding venue. With its private courtyards, on-site beauty spa, and vast suites, guests will enjoy a premium yet secluded experience.
Rooms
With a range of one, two, and three bedroom suites, the rooms offer everything you would expect from a five star hotel, and more. Whether you opt for one of the new, refurbished suites, or a traditional room with retro decor, you'll find the same levels of comfort and luxury throughout. Well designed and beautifully appointed, each of the 80 rooms has its own unique characteristics.
If ultimate luxury and exclusivity is high on your check list, the presidential suites will be sure to impress. Access is strictly limited, and availability is rare. Often playing host to discerning long-term residents.
Dining
Café Boulud acts as a centrepiece for the resort, positioned prominently in the main courtyard. Presented as a fine dining al fresco experience, headed up by Chef Daniel Boulud, the restaurant enjoys international acclaim. The lavishly designed dining room opens up to the majestic terrace.
Guests are presented with a varied seasonal menu. Locally sourced produce and the finest ingredients are carefully selected to make up the modern French-American cuisine. Created by Chef Boulud and Executive Chef Dieter Samijn, the menu parallels that of Café Boulud New York, but with a touch of South Florida flavour.
There's an emphasis on seafood and produce of the region, culminating in classic French dishes modernised to suit the cosmopolitan palate of Palm beach. Stand out dishes include Local Spiced Mahi with Key West Shrimp and Curry Leaf, Pan Seared Scallops with Brussels sprouts and miso jus, as well as the much loved Dover Sole Meuniere, which is filleted table side.
Read our comprehensive review of Café Boulud here.
Our Verdict
The Brazilian Court transports you to a time gone by. Old Hollywood movie star glamour, ultimate seclusion and a unique setting make for an experience that transports you back in time to a by-gone era.
With such amenities and a world-class restaurant, there's few reasons to leave the resort during your stay. Other than to access the private beach of course. The hotel offers a real home-from-home experience. It's no wonder that guests return season after season, and some choosing to even make The Brazilian Court their part-time residence.
Palm Beach offers a wealth of first class experiences, and The Brazilian Court encompasses the very best this glorious region has to offer. Whether you're in the area or not, this destination resort is the first choice for luxury-seekers around the world.