Design Reveals Ground-breaking Firsts for Fabergé; Exclusive Custom Designed Masterpiece 'Journey in Jewels' to be Pièce de Résistance of Multi-million-dollar Art Collection on Regent's New Ship Seven Seas Grandeur.
Regent Seven Seas Cruises®, the world's leading luxury ocean cruise line, is partnering with Fabergé, the globally revered jewelry maison, to create a one-of-a-kind treasure for the cruise line's latest ship, Seven Seas Grandeur. This rare collaboration will see Fabergé create an exclusive set of luxury eggs to be featured on board the ship when it sets sail in November 2023.
This partnership between Regent Seven Seas Cruises and Fabergé is the first of its kind and promises to deliver a unique experience for passengers on board the Seven Seas Grandeur. Fabergé, known for its exquisite craftsmanship and stunning jewelry pieces, will create the eggs using the finest materials and expert techniques. The eggs will be displayed in a special exhibit on the ship, giving passengers the chance to appreciate their beauty up close.
The concept of the luxury eggs dates back to the 18th century when they were commissioned by royalty and nobility as a symbol of wealth and status. The tradition was revived in the late 19th century when Peter Carl Fabergé created the first of his famous Fabergé eggs for the Russian Imperial family. These eggs, which were adorned with precious gems and intricate designs, became instant treasures and have been sought after by collectors ever since.
The partnership between Regent Seven Seas Cruises® and Fabergé is a natural fit as both brands are synonymous with luxury and elegance. Regent Seven Seas Cruises® is known for providing guests with the ultimate luxury experience on board its ships, and Fabergé has long been associated with opulent and exquisite jewelry designs. The collaboration brings together two brands that share a passion for excellence and a commitment to creating unforgettable experiences for their customers.
The Seven Seas Grandeur, which will be the newest addition to Regent Seven Seas Cruises® fleet, is set to offer passengers an unparalleled experience of luxury and comfort. With just 750 suites on board, the ship promises an intimate and exclusive atmosphere, where guests can enjoy personalized service and attention to detail. The addition of the Fabergé eggs to the ship's decor is sure to enhance the sense of luxury and add to the overall experience for passengers.
In conclusion, the collaboration between Regent Seven Seas Cruises® and Fabergé to create a unique set of luxury eggs for the Seven Seas Grandeur is a testament to their shared commitment to excellence and providing passengers with an unforgettable experience. The inclusion of these rare treasures on board the ship is sure to elevate the sense of luxury and opulence for guests and add to the overall ambiance of the vessel. This is a partnership that promises to deliver a truly unique and exclusive experience for those lucky enough to sail on the Seven Seas Grandeur.
Ground-breaking Techniques Inspired by Heritage, Nature and "The Voyage"
As a nod to the importance placed on heritage by both Regent Seven Seas Cruises and Fabergé, the unique 'Journey in Jewels' Egg Objet takes inspiration from the iconic Fabergé Winter Egg of 1913, while also heavily representing the natural elements of the sea. Conjuring up visions of epic voyages on the water, the egg's three-tiered base is a gentle cascading waterfall of ocean greens and subtle turquoise, while its outer shell's soothing deep blue waves become lighter, before breaking into a sea spray of pearls.
Exterior features of the egg object design include a ground-breaking ombre enamel shell; this is the very first time that Fabergé has applied this intricate enamelling technique to an egg, marking this a milestone moment for the Maison. Enamelling is an incredibly technical skill, which is made even more challenging with egg objets due to the added complexity of applying the enamel to a curved surface.
The outer egg 'shell' is composed of seven blades, representing the seven seas, which will unfurl to reveal a surprise hidden inside, details of which are being kept as a closely guarded secret until Seven Seas Grandeur is christened in 2023.
Bussche-Kessell continues, "With the 'Journey in Jewels' Egg Objet we have introduced some new enamelling techniques, whilst also honouring one of the most valuable and artistically enchanting historic Fabergé Egg Objets, the Winter Egg. We've also carefully referenced nature's spectacles of the sea, with stunningly delicate details across the many layers of this technically advanced piece."
'Journey in Jewels' will stand at approximately 18cm tall, with a three-tiered base which hides the movement of the egg's opening mechanism – the first time that Fabergé has hidden the movement in this way.
Designed by Fabergé's Head of Design, Liisa Tallgren, 'Journey in Jewels' is being entirely hand-crafted by one of Fabergé's appointed Workmasters, and a dedicated team of artisans based in south-east England. From conception to crafting, the egg will have taken 24 months to complete come November 2023 when it will be specially housed, pride of place in Seven Seas Grandeur'ssplendid atrium.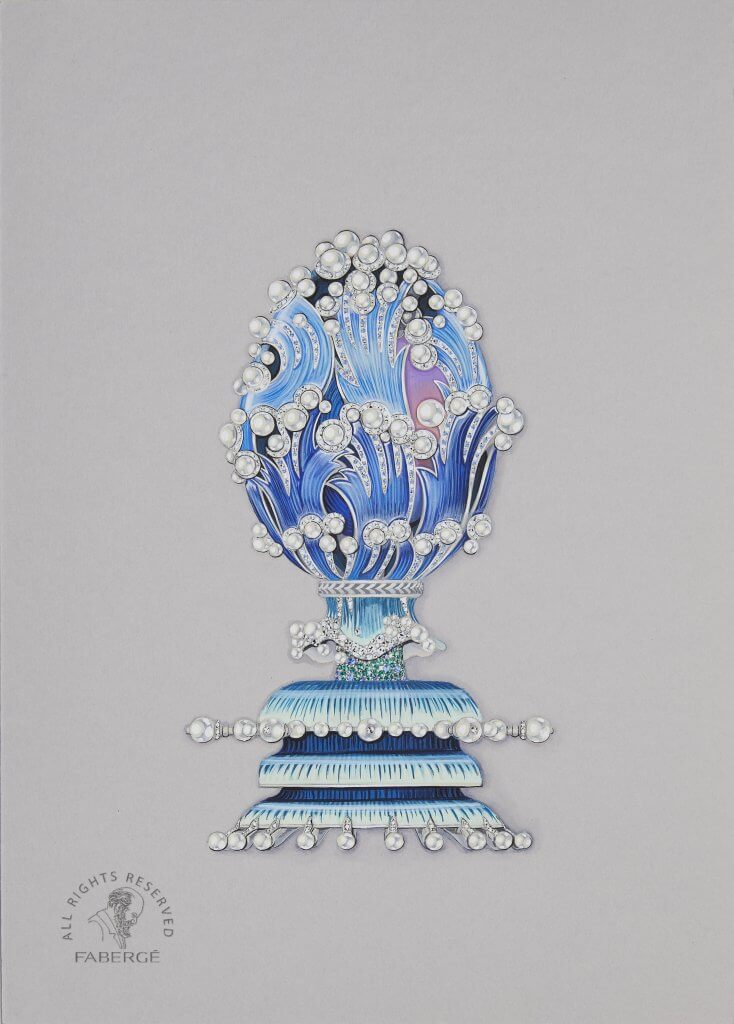 Fabergé-themed Spotlight Voyages Revealed
In celebration of the 'Journey in Jewels' Egg Objet, Regent Seven Seas Cruises and Fabergé have created two new Spotlight Voyages. These very special sailings will immerse guests into the world of Fabergé with unique and intimate tours, as well as spell-binding lectures.
The first exclusive sailing will be hosted by Fabergé's Curatorial Director Dr. Géza von Habsburg on board Seven Seas Splendor in June 2023, sailing from Southampton, England to Stockholm, Sweden. Guests will explore Fabergé's connection to Great Britain and British royalty, before extending to Scandinavia to discover the origins of Fabergé's craftspeople and the Fabergé collections in Denmark, Norway, and Sweden.
Sarah Fabergé, great-granddaughter of Peter Carl Fabergé and founding member of the Fabergé Heritage Council, will also host a sailing on board Seven Seas Grandeur in 2024.
Montague continued, "These exclusive new Spotlight Voyages are inspired by the timeless allure of the Fabergé Maison, lifting the veil of untold stories throughout its legacy. Travellers will not only be immersed in the rich culture and heritage of the world's foremost jewellery brand, but they will also enjoy the unrivalled Regent experience, which has been honed to perfection over 30 years."
More details about both Fabergé Spotlight Voyages will be announced at a later date.
About Regent Seven Seas Cruises 
Regent Seven Seas Cruises is the leading luxury cruise line, delivering An Unrivalled Experience™, with every luxury included, for 30 years. Carrying no more than 732 guests, the line's spacious and stylish ships - Seven Seas Explorer®, Seven Seas Mariner®, Seven Seas Navigator®, Seven Seas Splendor®, Seven Seas Voyager® and from 2023 Seven Seas Grandeur™ - form The World's Most Luxurious Fleet™ and explore more than 450 immersive destinations globally. Offering Unrivalled Space at Sea™, guests enjoy sumptuous all-suite accommodations, nearly all with private balconies, which are among the largest at sea, as well as highly personalised service throughout lavish public areas and expansive outdoor spaces. Voyage fares also include flights, shore excursions, gourmet cuisine in a range of speciality restaurants and al-fresco dining venues, fine wines and spirits, entertainment, unlimited internet access, valet laundry, gratuities, ground transfers and one-night, pre-cruise hotel packages for guests staying in Concierge-level suites and higher.
About Fabergé
Fabergé, the world's most iconic artist jeweller, creates extraordinary jewellery, watches and objets d'art, as well as bespoke commissions for a discerning international clientele. Founded in 1842, Fabergé has been one of the most revered names in jewellery ever since Peter Carl Fabergé created the 50 ingenious Imperial Easter Eggs for the Romanov family between 1885 and 1916.
Fabergé was officially 're-launched' on 9th September 2009, and is a wholly owned subsidiary of Gemfields Ltd, a world leading supplier of responsibly sourced coloured gemstones. Today, Fabergé celebrates 'A Life in Colour', taking inspiration from its storied past to create original pieces which capture the Maison's past, present and future. By painting with the world's finest coloured gemstones, Fabergé explores the art of colour through creations which are designed to become future heirlooms. Celebrating the concept of the artist jeweller in today's world of luxury, Fabergé traces its legacy of excellence in creativity, design and craftsmanship to bring about a new era of enchanting and enduring personal possessions and gifts, designed to be worn and treasured by contemporary connoisseurs. Current collections are available online at Faberge.com, in-store at Fabergé boutiques in London and Dubai, via 'By Appointment' services in the UK and USA, as well as over 100 points of sale globally via authorised retailers.