The Executive Magazine speaks with Abbass Zadeh, the 29 year old CEO of AZ Luxe, on how he built his impressive collection of luxury supercars and is taking the chauffeur and concierge industry by storm.
AZ Luxe was formed in September 2017 by Abbass Zadeh at the impressive age of 28. Less than a year later the company is in profit and dominates the London and UK luxury hire, chauffeur and concierge market with a fleet of vehicles worth over £2.5 million and a host of international clients.
The company provides a concierge service like no other, offering the latest vehicles, the most sumptuous private jets and access to the best hotels, nightclubs and bars the capital has to offer. Whatever you need, day or night, AZ Luxe can provide it.
Founder Abbass Zadeh gained market knowledge working for a number of luxury brands before forming AZ Luxe, including Audi, BMW and Bentley, and has launched a chauffeur and hire service for renowned luxury dealer group H.R. Owen. Abbass steered the H.R. Owen luxury hire and chauffeur business from a ground-up launch to a fleet of 35 vehicles and a year one revenue of over £1.2m. But he knew it could be done better, run without the constraints and slow reaction times that come with working for a large corporation, and it was as a direct result of this that AZ Luxe was formed.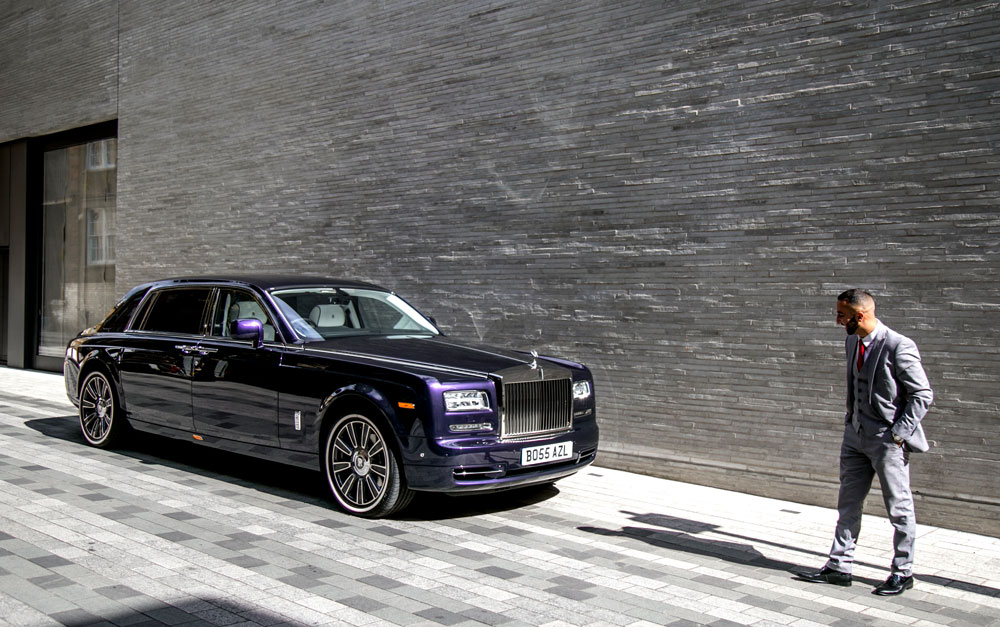 Once more Abbass faced the challenge of starting a new business from scratch but now he could do it his way, only this time it was without the comfort of a corporate cheque book and sacrifices had to be made. The money made from a house sale enabled him to place a deposit on a Rolls-Royce Phantom, Lamborghini Huracan and two Mercedes-Benz S-Class'. He also rented a central London HQ, amassed a small team and AZ Luxe was born.
On day one Abbass started with an intelligent attitude towards social media and started to post engaging and relevant contact which saw his online reach swell to over 7000 followers. As a result of this social media engagement he gained bookings from a number of high-profile celebrities and saw his cars being featured in a number of music videos and on the feeds of many a celebrity.
In addition to social media Abbass strived to reach the corporate markets, attending conferences and conventions world-wide to promote the brand to global corporations. His persistence and determination won a number of corporate clients and enabled a partnership with a private jet company to form. His attitude of 24/7 availability is of huge importance to the corporate world, if a Global CEO lands with short notice at a UK airport AZ Luxe will have a car on the tarmac to greet them no matter how short the notice or what the time of day.
Hotels often find the cost of owning and running a luxury car to shuttle VIP guests an unwelcome expense. Abbass took a new offer to hoteliers where he could provide the very best cars on a 'there when you need them' basis, meaning they could now afford to transport guests in the latest Rolls-Royce or Mercedes-Benz at a fraction of the cost of owning. As a result, several hotels are now contracted to AZ Luxe including the Hotel Café Royal, Jumeriah Carlton Tower and The Ned and many others use AZ Luxe on a regular basis for special clients.
While many luxury hire companies offer old models, or tired examples of once great cars, Abbass invested heavily in growing his fleet to ensure it met the exacting needs of a demanding client. From the latest Mercedes-Benz S-Class to a brand-new Lamborghini, Abbass used his experience and knowledge to buy only the very best.
AZ Luxe was also the first hire company in the UK to offer the Rolls-Royce Wraith for both chauffeur and hire and they are the only company to offer the Lamborghini Huracan Performante as a part of their fleet. Today the fleet is valued at over £2.5million and their unique, bespoke commission Rolls-Royce Phantom is the most in-demand car in London as has covered over 10,000 miles in just 10 months.
Adding a concierge service was a natural transition as many clients asked AZ Luxe for jet charter, hotel bookings, tables at the best restaurants and entry to the most sought-after clubs. Using their extensive contacts client wishes were granted and the concierge service was added as part of the client experience. Now AZ Luxe always has a number of jets available within easy reach of Central London and relationships with the very best places to be across the U.K.
In less than 12 months AZ Luxe has gone from being an unknown entity to the leading chauffeur and hire business in the UK. The vison, dedication and market knowledge of founder Abbass Zadeh has seen his business thrive and the fleet grow from one Mercedes to a luxury £2.5million collection and that's not including the private jets at his disposal.
Self-funded, self-motivated and selflessly dedicated, Abbass is a true young British entrepreneur. When asked what advice he would give, he tells us 'Know your market, do your research, plan your desired direction and don't let knock-backs or doubters make you question yourself'. He adds 'The rewards of being your own boss are great, leading your team a responsibility. I've lost sleep, I've forfeited a social life, but we've created a world-leading business. Sleep can wait, we've new goals to achieve and don't plan on resting on our laurels any time soon'.