Glenapp Castle, Ayrshire
Glenapp Castle, with its fairy-tale turrets, is a luxurious 21-bedroom Relais & Chateaux hotel in Ayrshire, Scotland. During winter, the Castle's 110 acre estate, with its scenic gardens and local woodland, is transformed into a winter wonderland. Every year at Christmas time, the Castle assembles the most magnificent and tall tree that stands within the entrance of the family-owned castle. This bushy tree is covered with beautiful gold stars and large red and green baubles that cover almost every branch. With grand interiors and period furnishings, the theme is regal and classic – the grand suites feature four-poster beds, and the drawing rooms, library and bedrooms all come complete with cosy fireplaces and overlook either the beautiful gardens or the calming waters surrounding the Scottish Isles.

Christmas at Glenapp Castle is truly memorable with a three-night stay in this breathtakingly beautiful part of Scotland. Included in the Christmas stay are falconry displays, stargazing, clay pigeon shooting, archery, treasure hunts, open fires and new friendships, so something for all the family. Not forgetting Father Christmas who always finds his way to Glenapp – he's normally after one of the famous homemade Christmas mince pies! Guests are invited to arrive on Christmas Eve in time for an afternoon tea, before relaxing by the roaring fire and exploring the Glenapp gardens, with a leisurely six course meal to follow. On Christmas Day, a full Scottish Christmas breakfast is served followed by the opportunity to visit the local Ballantrae church for the Christmas service. Mid-morning there is a falconry display with beautiful birds of prey swooping the grounds, and a champagne reception prior to a fabulous festive four-course Christmas lunch. After lunch guests can take themselves off to explore the wonderful walks available throughout the estate and wider Ayrshire area, before an evening buffet with the Scottish ceilidh band providing entertainment for all. Boxing Day sees a host of complimentary activities available for guests to partake in before a light lunch and a free afternoon. Say farewell to the Christmas celebrations with a final three course gourmet dinner accompanied with the wonderful hum on the Glenapp harpist.
The Bradley Hare, Wiltshire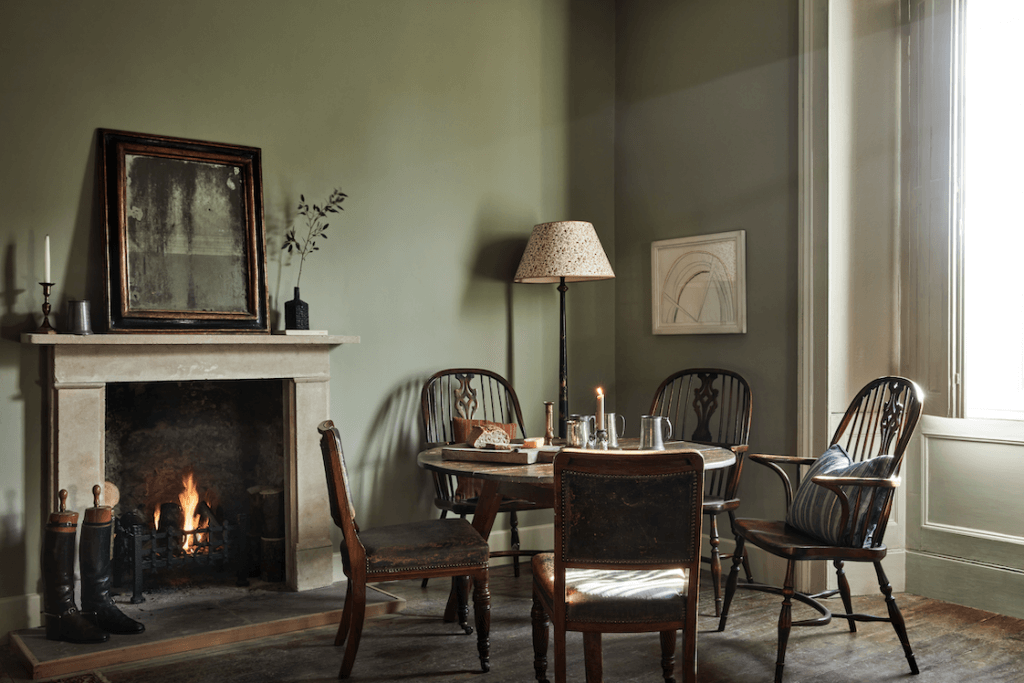 The Bradley Hare recently opened in June 2021 and is a cosy country inn located on the Duke of Somerset's Estate in the beautiful village of Maiden Bradley. The Bradley Hare has twelve bedrooms and the inn offers delicious dishes using the best local and seasonal produce. As the seasons change and the evenings bring a temperature drop, guests can be sure to experience a stylish, yet cosy stay due to James Thurstan Waterworth, ex-European Design Director for Soho House, having overseen the Inn's cool, yet authentic interiors. Each bedroom is unique with 18th & 19th century antique furniture and includes distinctive fabrics repurposed and used for the headboards. All of the rooms offer guests those sought-after home from home comforts, some with vast elegant freestanding baths and all with sumptuous beds and linens, fit for a duke or duchess – Just ideal for snuggling up into, following some hearty winter walks. For those who are able to be torn away from soaking in the gorgeous freestanding baths, the sumptuous beds and linens, or the candle lit dinners, why not enjoy romantic autumn strolls around the estate or even the splendid and romantic 18th century world-famous Stourhead gardens.
For those who are able to be torn away from soaking in the gorgeous freestanding baths, the sumptuous beds and linens, or the candle lit dinners, why not enjoy a visit to The Potting Shed, The Bradley Hare's secluded boutique beauty studio hidden within the grounds of Bradley Park. Once a humble gardener's workshop, The Potting Shed has been transformed into a space to rejuvenate the body and mind. It is a sanctuary of calm and tranquillity and is the perfect place for guests to retreat, unwind and enjoy a full range of luxury beauty and holistic treatments. The Bradley Hare is also offering a fantastic Christmas menu. Guests can expect delicious turkey crown, stuffing, goose fat potatoes, carrots, parsnips, sprouts, bacon & chestnuts and Christmas pudding or apple crumble for dessert.
Sutton Hotel Collection
Sutton Hotel Collection knows how to celebrate the festive season in style. Guests can taste aromatic mulled wine, indulge in warm mince pies and marvel at the glistening decorations that feature across the three beautiful hotels: The Francis Hotel Bath, The Queens Hotel Cheltenham and The Castle Hotel Windsor. This Christmas, why not leave all the hard work to the Sutton Hotel Collection teams and spend the merry season with all the family, indulging in the festive luxuries, in the comfort of these wonderful hotels.
The Francis Hotel, Bath
The Francis Hotel Bath is a townhouse set in an architecturally fascinating and iconic English city of Bath, with character and style that exudes a warm welcome. The hotel has 98 sumptuous bedrooms with vibrant interiors that will transport you back to the Regency period.
This festive season, guests can enjoy a seasonal menu of experiences to create memories that will stay with them forever:
From Monday 21st November – Festive Lunch and Dinners, with a variety of options such as a delicious turkey roast with all the traditional trimmings.
From Saturday 26th November – Festive Afternoon Tea with delicious festive bun sandwiches, freshly baked scones, and delicate tea cakes, all accompanied by mulled wine or prosecco.
Christmas Day – Guests will be invited to step into the hotel's restaurant, Boho Marché for five mouth-watering courses with all the trimmings, followed by coffee and mince pies
TO DO: Bath is the perfect place to complete all the Christmas shopping and to make the most of the New Year sales. Explore the streets surrounding Bath Abbey or find some hidden gems from one of Bath's many shopping events. Bath's Thermae Spa is also a beautiful and tranquil way in which to unwind after a day of Christmas shopping – the perfect antidote. The hotel's special Christmas menus are available to be enjoyed throughout the whole festive season.
The Queens Hotel, Cheltenham
Embrace tradition in both history and style this Christmas by celebrating at the iconic Queens Hotel Cheltenham. Step back in time to a bygone era of opulence and refinement in the Grade II listed building, whilst enjoying all the modern comforts of an exquisite boutique hotel.
Festive Parties in The Regency Suite
Christmas Brunch & Bubbles – Queens' festive brunch menu is served from Thursday to Saturday throughout December, between 11am and 3pm
Festive Afternoon Tea
Four-course Christmas Eve Dinner
Five-course Christmas Day dining experience in Victoria's
Boxing Day Gala Dinner, a Black Tie event
The Castle Hotel, Windsor
The Castle Hotel Windsor, established as one of Windsor's finest boutique hotels, is the perfect setting for anyone looking to experience Christmas like royalty. With 108-rooms and offering a prime location at the heart of Windsor, the hotel is perfect for those looking to experience some regality this festive season:
Private Package of a three-course menu. – Available throughout December and selected dates in January.
Festive Lunch and Dinners in the hotel's restaurant Leaf, which will turn into a magical winter wonderland.
Festive Afternoon Tea at the hotel with live carols to sing along to. – Served daily from 12 noon to 5pm, Friday 25th November to Saturday 31st December, (excluding Sunday 25th and Monday 26th December).
Special appearance from Father Christmas, with a gift for children at Afternoon Tea
Four-course traditional Christmas Day meal
TO DO: The hotel is just a short distance from the famous Long Walk, Windsor Great Park, Savill Garden and the River Thames, all of which are beautiful when glistening with wintery frost – there really is no better place to dream of a white Christmas.
The Montenotte Hotel, Cork
The Montenotte Hotel invites guests to celebrate the festive season in style. With unrivalled views of Cork, The Montenotte Hotel strives to continuously innovate memorable experiences for guests to enjoy a truly urban escape experience. The hotel will be adorned with festive decorations and staff will be on hand to warmly greet guests and make them feel right at home.
The Montenotte Hotel is one of Cork's finest spots, offering everything for a luxury stay with delicious food & drink, a spa.
Coinciding with festive thrills at 'Glow Cork 2022', one of Ireland's most popular collections of Christmas markets, guests can also take a ride on the Ferris Wheel on the Grand Parade and stroll through the transformed winter wonderland of Bishop Lucey Park.
Returning for a relaxing drink at The Glasshouse Rooftop Bar at The Montenotte Hotel, taking in panoramic views of the city's twinkling lights or feasting on some delicious festive food at the Panorama Bistro & Terrace.
Guests can treat themselves to a spa day at Bellevue Spa, opting for a relaxing treatment to help unwind and recharge after a busy day of festivities. The Motion Health Club offers the perfect form of revitalisation with a 20-metre indoor swimming pool, sauna, steam room and jacuzzi as well as a fully equipped gym.
Choose between a 1-night staycation or 2-night staycation with delicious breakfast the following morning and 3-course dinner served in Panorama Bistro
Relax and recharge after a busy 2022 with a Luxury Spa Break
Watch a Christmas movie in our luxury in-house Cameo Cinema
Take in breath-taking panoramic views of Cork while enjoying the warmest hospitality at The Glasshouse rooftop bar
The Luxury Travel Book – Christmas in the Douro Valley
The Luxury Travel Book is a family run business providing villa rentals and premium city apartments in the world's most desirable destinations. For Christmas, Rio Torto on the Douro Valley is offering some special additions:
Rio Torto, Douro Valley (10 Guests, 5 Bedrooms)
From its location at the heart of the Douro World Heritage Site, this luxury villa to rent in the Douro Valley is on an organic vineyard estate, which produces premium wine. It is situated on a high plateau on the banks of the Rio Torto, a tributary south of the Douro River. Over 100 years old, the villa has been recently renovated and offers the perfect relaxing retreat for a family or group of friends this Christmas. For Christmas, Rio Torto will have its very own Christmas tree as Turkey ordered, and ready to be collected at guest's convenience. Heating and cleaning to be included too.
Rhinoceros Roma
Discover an alternative way to celebrate this festive season and stay in the heart of Rome at Rhinoceros Roma, a boutique establishment of 25 unique apartments set within an Avant Garde art gallery that houses some of the world's best installations and exhibitions. Christmas is a fantastic time to visit Rome, as a city that has an array of light shows, religious traditions, including Christmas Mass, and decadent shopping at every corner. The weeks leading up to Christmas also become much quieter as locals flock to celebrate with family and tourism is in slower demand.
Guests staying at Rhinoceros Roma can visit the classic Vatican Christmas Tree, also known as the Saint Peter's Square Christmas tree, which is adorned with lights and decorations – a must-see during the festive season. Within the square, a life-sized nativity is revealed on Christmas Eve whilst the Pope celebrates midnight mass. Wander the streets of Rome and visit the endless stream of Christmas markets, independent shops, enjoy roasted chestnuts and partake in wintery activities such as ice-skating at The Auditorium Parco della Musica.
Set in the heart of Rome's historical centre, Rhinoceros Roma was established by Alda Fendi in 2018 and designed by world renowned French architect, Jean Nouvel. The boutique establishment features a modern, industrial vibe where new-meets-old design details through the use of juxtaposing materials as well as state-of-the-art apartments. Home to 25 unique apartments from studios to penthouse suites, Rhinoceros Roma provides a haven for guests with a professional or amateur relationship with arts, literature and sciences. The apartments are fully stocked with state-of-the-art technology, amenities as well as luxury linen. They also include a personalised breakfast hamper complete with delicious Italian treats.