With 300 days of sunshine each year, Puglia is known for its spectacular and unspoilt landscapes. Its endless coastlines, rolling hills, charming villages, and incredible wine and delicacies are just some of the highlights on offer. As of winter 2022, the destination will be known as the home of Masseria Pistola, a magnificent and stylish 10-bedroom family home that sits in a prominent position within a picturesque estate, offering stunning views across the beautiful Canale Di Pirro Valley in Puglia, Italy. 
The property is the brainchild of entrepreneur and owner Constant Tedder, who lovingly renovated the property with the help of James Thurstan Waterworth, ex-European Design Director for Soho House; Puglian based English architect, Anthony Filmer; and local architect, Andrea Rodio.   
Constant Tedder comments – "When I first saw Masseria Pistola, the stunning building looked magnificent in the beautiful valley of the Canale Di Pirro but it had been abandoned for over 35 years and was looking very neglected and in danger of collapse. I tracked down the owners who were brother and sister and who were born at the property and still lived locally. I managed to persuade them to sell the property and so took it on in 2017 and since 2018, we have been working to restore it back to its former glory. I have been coming to Puglia for more than 15 years and the region is still very much unspoilt. I wanted to ensure the restored Masseria Pistola was in keeping with its surroundings and maintained all its original features.  
"With its glorious traditional stone forms restored by local craftsmen – James and Anthony have created stunning interior spaces. In the past two years we have planted extensive private gardens. Now put together with delicious food, and an exceptional team on hand, Masseria Pistola is a warm luxurious private retreat which is available to rent for an amazing family holiday or an out of this world celebration''. 
Hidden within a 30-hectare estate and surrounded by stunning gardens, Masseria Pistola mixes the spirit of its past whilst adding a contemporary twist to bring it to life and arouse a certain magic. The main house, the Cumersa (meaning gable-roofed) is the heart of Masseria Pistola and is home to a large living room with a games table and bar, a kitchen, and terrace for al fresco dining. It is also home to four magnificent ensuite bedrooms, two upstairs and a further two downstairs. 
Next is the Pagliano that is home to a beautiful and spacious ensuite bedroom with an outdoor shower,  and a cosy sitting room. Then there are a further 3 Trulli (meaning little Masseria) that are all en-suite offering a shared private lawn and interconnecting opportunities, perfect for those with little family members.
For those looking for privacy, the Trulli Cottage is a beautifully secluded and romantic hideaway. Here guests will find the master suite, with a double bedroom, sumptuous bathroom and walk-in shower, a living room, walk-in dressing room and a second double bedroom. It comes equipped with a kitchen, shaded terrace and garden with a private plunge pool. Each of the property's bedrooms feature grand roll top baths, fireplaces and walk in showers.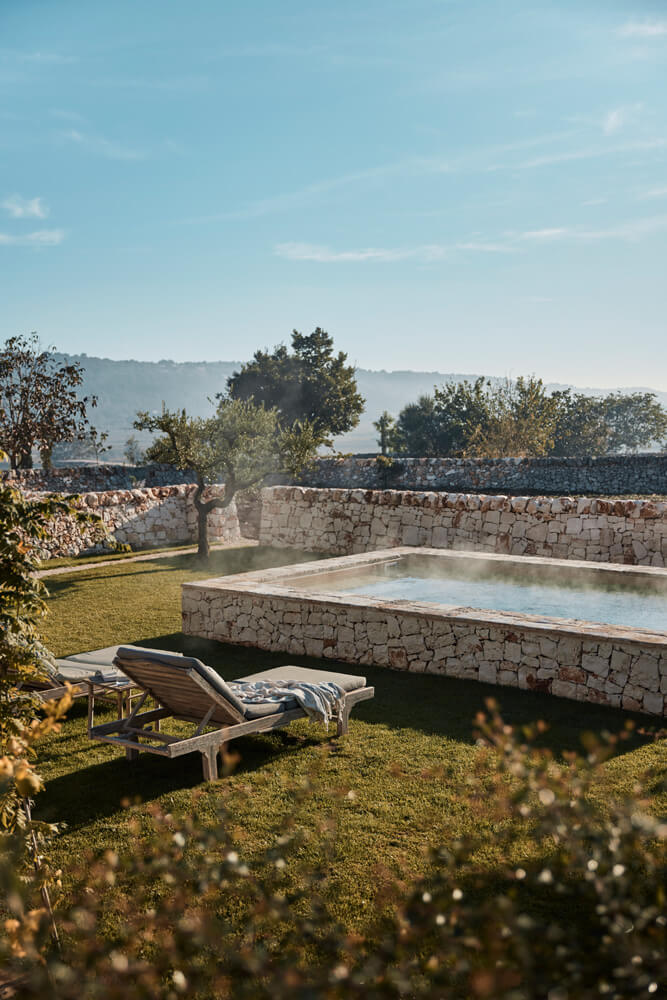 Experienced local architect, Andrea Rodio, worked with both James Thurstan Waterworth of Thurstan Design, and a Puglian based English architect, Anthony Filmer, to complete the project. Original features have been meticulously maintained and the history of the site lives on in the Masseria's stunning vaulted ceilings and architectural features. The interiors team visited various markets and carefully selected furniture and artefacts from antique shops in Puglia and across Italy. There are a handful of pieces from the South of France and northern Spain which add more layering and emphasise the feel that they wanted to create – of having been lived in for a number of years with a hint of eclecticism. 
James Thurstan Waterworth comments ''We wanted Masseria Pistola to appear pared back and relaxed but at the same time, give a sense of luxury and comfort. We wanted the property to feel like it had been lived in by a family, but that it had also been recently modernised, as opposed to making it feel newly designed. The use of antiques and one-off pieces helped to create a sense of home/lived in experience". 
James and the team made the decision to create pockets around the house and estate where people can go for privacy and escape, but they also wanted to create communal areas for people to come together. There are no less than four al fresco dining locations in the chianche-paved courtyards and on the breakfast terrace. There is the property's large swimming pool that is heated in the winter months and surrounded by a large deck with sunbeds.  
What makes Masseria Pistola so special is the four hectares of private gardens that surround the house in every direction. The Mediterranean aromatic plants populate the private walled gardens of the Masseria, creating wonderful spaces to walk and enjoy. For those wanting to explore or exercise, Masseria Pistola benefits from being close to the Ciclovia, a 50 km stretch of bicycle pathways that winds through the Valle D'Itria. Constant takes a keen interest and works closely with the team to ensure this is an all-year-round garden.  
Masseria Pistola nestles privately but is also accessible to the Giardini Pistola, which provides a further five hectares of glorious gardens. The gardens were designed by Chelsea designers Lulu Urquhart & Adam Hunt, who won a gold medal for 'A Rewilding Britain Landscape' at the Chelsea Flower Show 2022. Rewilding the estate is paramount to Constant Tedder, and he has been repopulating the gardens with ladybirds and bees. 
The Giardini's six different terraces feature hibiscus, lavender, agapanthuses, six different types of tulips, Russian sage, and bougainvillaea. They are home to 90 different types of trees, over 9,000 species of plants and there is a herb garden featuring 20 different types of herbs, not to mention further herbs found in the chef's gardens at the property that all make their way from garden to plate. The culinary operation is overseen by the enthusiastic and charming Chef Luciano. Specialising in local dishes, Chef Luciano provides guests with delicious and hearty meals throughout their stay. 
With over two hectares of vineyards, the estate produces its own organic wine including a delicious Nero di Troia, and Verdeca wine grape varieties from Puglia, that are sold in theTenuta Pistola Farm Shop. The Farm Shop is set beside the Giardini Pistola under a canvas tent and is open during the summer months from the beginning of May to the end of September. In addition to wine, guests can find homemade and local products, including olive oils, handmade soaps, dried Puglian lavender buds, Lavanda Di Puglia essential oils, scented candles, and organic honey from the estate's 20 hives of bees. 
The House Manager, Chef and housekeeping staff at Masseria Pistola are highly attentive and welcoming delivering 5 star service in a warm home setting. The team can organise just about anything from wine tasting evenings, picnics, stargazing with a local astronomer and cooking classes at the property. A short distance from the local towns of Monopoli, Polignano and Locorotondo – Masseria Pistola is just a stone's throw away from many desired attractions such as the Cathedral of Monopoli, as well as local restaurants and beautiful beaches of the Savelletri bay. 
With so much to see and visit, Masseria Pistola is the ideal location for guests wanting to come together to experience stunning design, beautiful gardens, and delicious food all in a highly luxurious country house with five star service levels. Puglia remains largely an undiscovered gem. With the introduction of Masseria Pistola, there is now the perfect place to stay whilst exploring this beautiful part of the world.
The property is the brainchild of entrepreneur and owner Constant Tedder, who lovingly renovated the property with the help of James Thurstan Waterworth, ex-European Design Director for Soho House; Puglian based English architect, Anthony Filmer; and local architect, Andrea Rodio.