As economic growth lags in many sectors, the UK's tech industry is breaking free from the pack, soaring ahead at an astonishing rate. With a growth rate over two and a half times faster than the rest of the economy, tech companies are sprouting up at a remarkable 22% average rate. Delving into this fiercely competitive landscape, it becomes clear that certain regions are magnetic for tech professionals and offer fertile ground for tech firms to flourish. To shed light on the factors driving this success, Microsoft Partners, Pragmatiq, conducted a data study that uncovers the secrets behind thriving tech companies.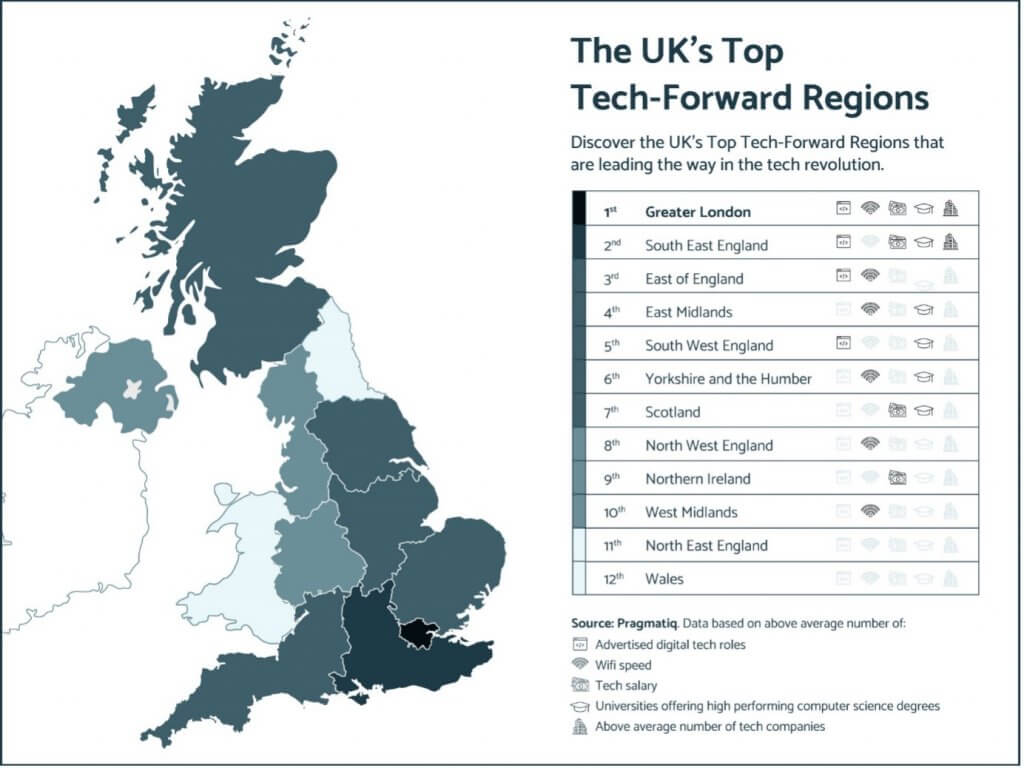 The League of Tech Savvy: Ranking the Regions By meticulously analysing data against various criteria, each region has been evaluated and ranked using a points system, distinguishing innovation hubs from those with a lesser focus on tech. The criteria considered include the number of tech jobs advertised, average Wi-Fi speed, average tech salary, the presence of universities offering computer science degrees, and the number of tech companies in each region. For full details on the methodology, refer to the end of this article.
The Winners: Unveiling the Tech Titans
Greater London
South East England
East of England
East Midlands
South West England
Yorkshire and the Humber
Scotland
North West England
Northern Ireland
West Midlands
North East England
Wales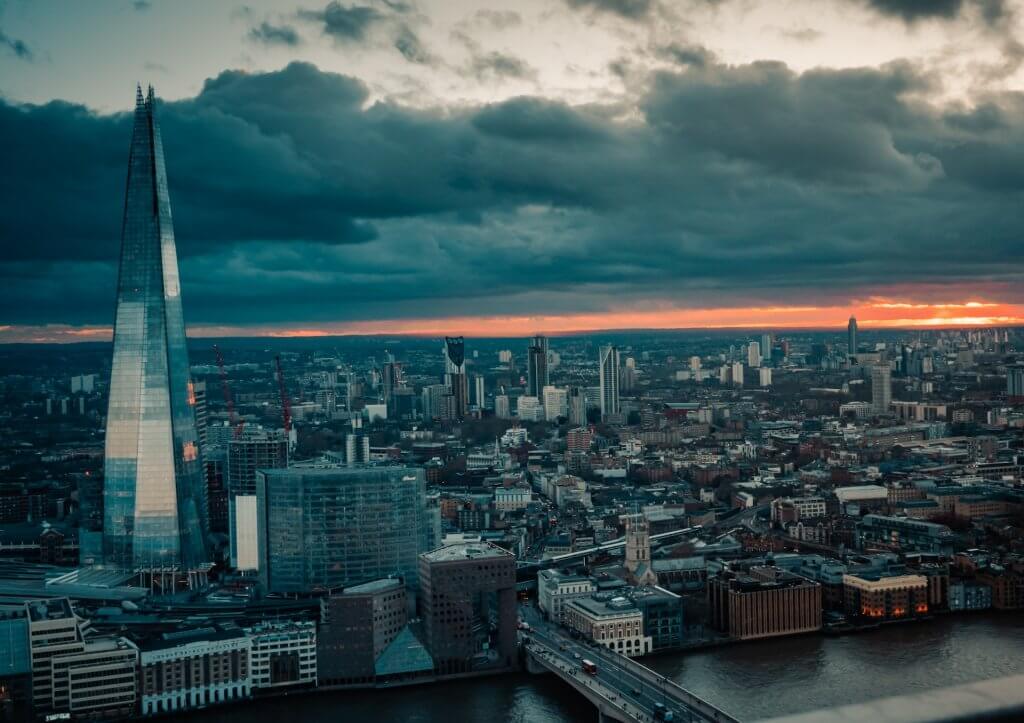 Greater London: The Obvious Champion With a reputation as one of the world's leading financial powerhouses and the UK's capital city, it's no surprise that Greater London tops the leaderboard. Scoring consistently high across all categories, Greater London boasts above-average salaries, a multitude of tech jobs, lightning-fast Wi-Fi speeds, prestigious universities offering computer science degrees, and a thriving tech company scene. As a magnet for both FTSE100 corporations and disruptive start-ups, the city's sisable millennial and Gen Z workforce, considered digital natives, contribute to its success. Tech professionals in London enjoy the highest average salary, standing at £55,000, a substantial £17,500 more than their counterparts in South East England.
The Second Most Tech-Savvy Region: South East England South East England secures a prominent spot, earning four out of five points and establishing a solid lead over the third-place contender. This region offers exceptional job prospects in the tech industry, attractive salaries, top-notch universities providing computer science degrees, and a staggering count of approximately 4,812 tech companies. South East England also provides a conducive environment for studying, with six high-ranking universities, including the esteemed University of Oxford within the prestigious Russell Group. However, the region falls slightly behind in Wi-Fi speed, trailing by a mere 0.4Mbps, likely due to limited investment in telecommunications infrastructure.
The Runners-Up: Tied for Third Place
3. East of England
East Midlands
South West England
Yorkshire and the Humber
Scotland
Five regions share third place, each securing two points. With the exception of Scotland, these regions fall below the average for tech salaries, which stands at £37,342. Glasgow, a popular destination for millennials and Gen Z, contributes to Scotland's higher average salary, along with its universities offering quality computer science degrees. Despite their educational opportunities and young workforce, these regions receive lower scores due to fewer job prospects further north.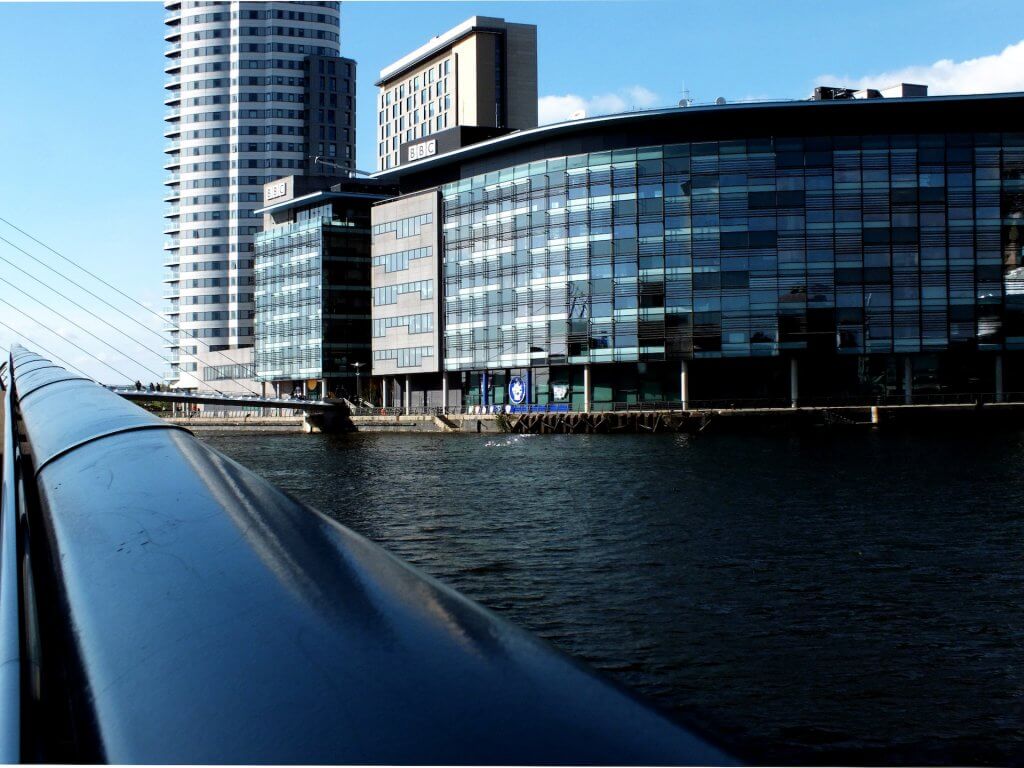 Regions Trailing Behind: The Journey to Catch Up
8. North West England
Northern Ireland
West Midlands
North East England
Wales
Wales lands in last place, hindered by low average Wi-Fi speeds and a scarcity of tech companies. With an average speed of 58.3Mbps and a meagre 882 tech companies, Wales pales in comparison to the staggering 23,901 tech corporations in Greater London. Nevertheless, Wales boasts three universities offering excellent computer science degrees, with Cardiff University maintaining a satisfaction rate of 78.8%. The North East, scoring zero points, struggles with lower average tech salaries, offering around £32,500, a £5,000 difference compared to South East England. However, the region's abundance of high-ranking universities and a high proportion of STEM students positions it as an attractive hub for tech investment.
The Future of Tech Regions: Opportunities for Growth
Regions like Greater London and South East England lead the charge in tech advancement and opportunities. South East England benefits from businesses trickling down from Greater London, ensuring above-average salaries and ample access to digital tech roles. This study reveals that every region has room to further emphasise tech, with only Greater London scoring in all five criteria, while two regions, North East England and Wales, score none. Local councils and organisations can take steps to enhance their regions' tech offerings. Over time, regions like the North East of England and Scotland are expected to climb the ranks, accruing more points for advertised jobs and the number of tech companies.
Data Methodology
The study employed five defined categories, calculating an average score for each. Regions exceeding the average received one point, with a maximum total of five points. The following averages were used:
Number of advertised digital tech roles: 224,892
Average Wi-Fi speeds: 72 Mbps
Average tech salary: £37,342
Universities offering computer science degrees with above-average scores: 4
Number of tech companies in the region: 3,873
To determine the average university score, the most popular tech-related degree, Computer Science, was considered. A comprehensive list of universities offering this degree was obtained from The Complete University Guide, which assigned scores out of 100 based on factors like student satisfaction and graduate prospects. Universities with scores above the average were grouped by region, and another average calculation determined that regions with four or more universities scoring above average would receive a point. For instance, Scotland, with eight universities surpassing the average, gained one point.
Number of regions scoring above average:
Number of advertised digital tech roles: 4 out of 12 regions
Average Wi-Fi speed: 6 out of 12 regions
Average total salary: 4 out of 12 regions
Universities offering computer science degrees with above-average scores: 6 out of 12 regions
Number of tech companies: 2 out of 12 regions