It's that time of year to shower your loved one in gifts and gratitude even more so than usual with Valentines Day right around the corner—and The Executive is here to assist you in the finest quality gifts on the market. Here are our best picks for 2019.
200 Red Roses
A timeless classic. These 200 stunning semi-bloom red roses are a truly vibrant and luxurious gift for your partner and will brighten up their day on Valentines Morning.

Launer Traviata Patent Leather Tote
A favourite of the royal family, this British-made Traviata tote from Launer showcases elegant and stylish splashes of gold-plated hardware to the tonal patent leather construction.
With distinctive lines crafted from the highest quality materials, the Traviata once again proves that refined style can mean business.
Each item is handmade to order using fine traditional craftsmanship.
Jaeger-Lecoultre Master Ultra Thin Perpetual Enamel White Gold Watch
In a limited series of 100 editions, the Master Ultra Thin Perpetual Enamel will surely please your special other this February.
In a generous case, the hand-enameled guilloche dial features a new moon display, indicating the celestial body's increasing or decreasing phases simultaneously in both the Northern and Southern hemispheres.
Whisky Islay Connoisseur Set & Walnut Tray
Enjoy this prized whisky in style with the Whisky Islay Connoisseur Set & Walnut Tray from LSA International. Included in this set features two nosing glasses with covers, a decanter, a jug, and two tumblers.
Mouth blown by a skilled artisan, this opulent set is handmade and presented in a stunning LSA International box.
A modern, contemporary take on traditional whisky drinkware this gorgeous set is presented in a stunning LSA International gift box, making it a great gift idea for any spirit enthusiast.
Cartier LOVE Bracelet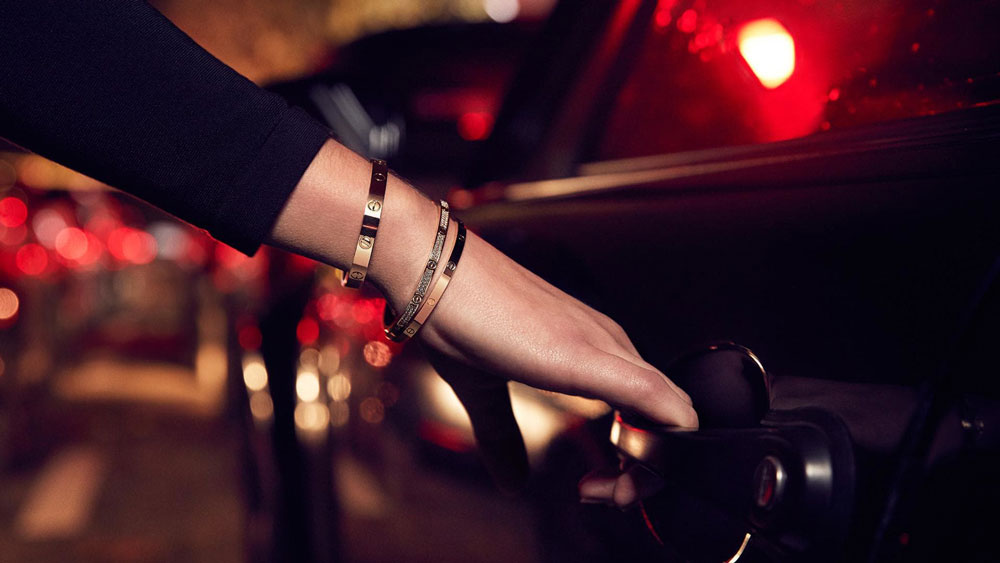 How far would you go for love? The Love collection serves to seal love that transgresses convention—the stark screws, oval shape, and undeniable quality establishes the piece as a tribute to passion and romance.
Blueberry Island
One-up all of your friends and business partners this year with the purchase of your own private island located in the Laurentian Mountains, Canada.
This stunning 2.5 acre heart-shaped island comes with a traditional cedar wood log cabin, a sauna, and a 4.8m fishing boat.
Blueberry Island and its associated mainland property are located just 45 minutes to the north of Montreal. As well as boasting a cosy log cabin, the island also comes with its own sandy beach, a garden and a picturesque forest, perfect for starry-eyed strolls.
Vladi Private Islands, CAD $995,000
Creed Aventus—For Him & For Her
This essential gift this Valentines Day will leave you thinking about your loved one all day long. The gold standard of fragrance, Aventus For Her Eau De Parfum comes in sizes 30ml & 75ml. Aventus For Him Ea De Parfum comes in sizes 50ml and 100ml.
For Him
Prepare to conquer with this powerhouse of energy and dynamism from Creed. Full of energy and dynamism, it has top notes of pineapple, blackcurrant, apple and bergamot. The heart notes are a deep, heady combination of peppery rose, birch, jasmine and patchouli. Its base is oakmoss, ambergris and a light dusting of vanilla to add the finishing touch of masculinity
For Her
Years in the making, this new enthralling scent is inspired by some of history's most powerful women – royalty, artists, writers and visionaries – whilst heralding the strong, modern woman of today. An olfactory celebration of vibrant and passionate femininity, Aventus for Her echoes the power, vision and success of the best-selling Aventus.
Top notes include accords of crisp succulent green apple blended with violet leaf, fragrant pink pepper and the sparkle of Calabrian bergamot; middle notes highlight a bouquet of rose, Styrax and Sandalwood from Mysore; and base notes include peach, cassis, ylang ylang and Amber.