Behold the exquisite allure of the Spirit of Big Bang Essential Grey, a timepiece that embodies a unique variation in luminous grey. This extraordinary creation is exclusively available online, a rare gem coveted by discerning collectors who seek to make each vintage their own.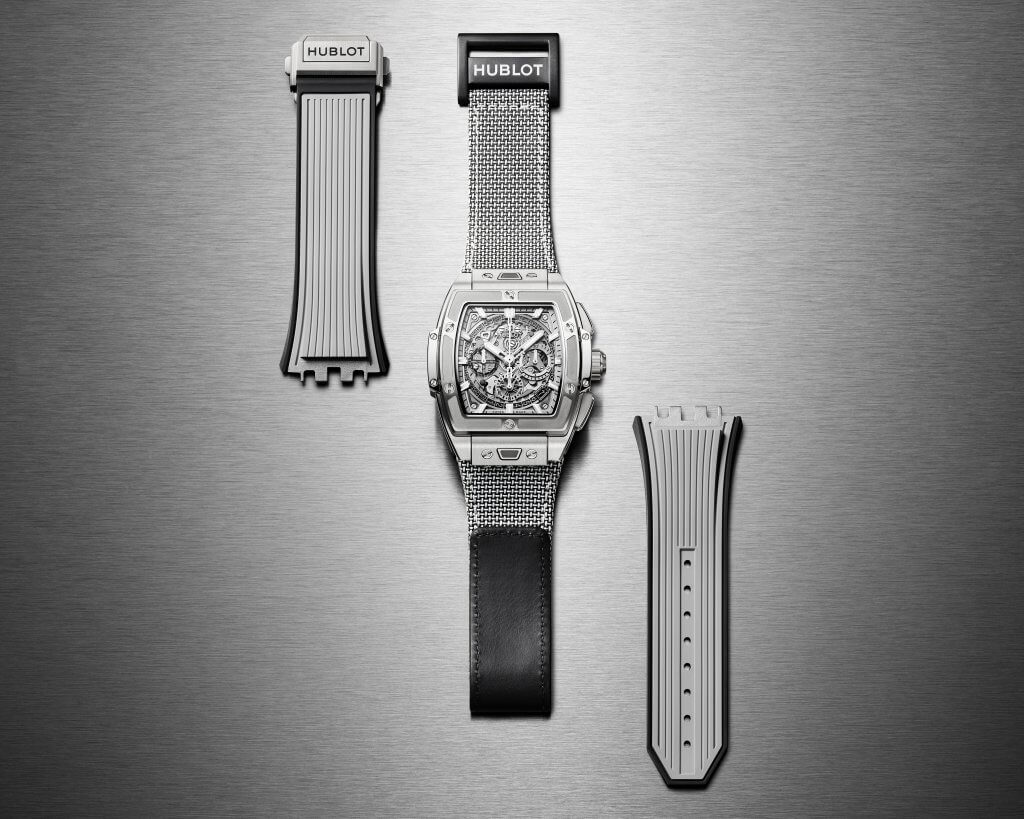 In the realm of timepieces, colors are like limited editions – their singularity wanes with excessive use. The Essential Grey collection, born from this premise, embraces a singular vision: a single color, a single model, unveiled once a year through a solitary channel. This approach appeals to both avid collectors, who meticulously curate a consistent and comprehensive collection over time, and to enthusiasts who patiently await the arrival of the perfect model from the 'Essential Grey' line.
Enter the Spirit of Big Bang Essential Grey, a timepiece that invites each individual to form their own opinion without delay. Like its predecessors, it will be the first and last of its kind. Only a limited production of 100 pieces is planned, and these exceptionally rare treasures will be exclusively available online at hublot.com.

This distinctive approach exemplifies Hublot's commitment to offering equal opportunities to all collectors, regardless of their proximity to one of the brand's 130 sales outlets. In fact, the 2023 version of the Spirit of Big Bang Essential Grey will be twice as rare as its predecessor, with a mere 100 pieces crafted compared to the previous year's 200.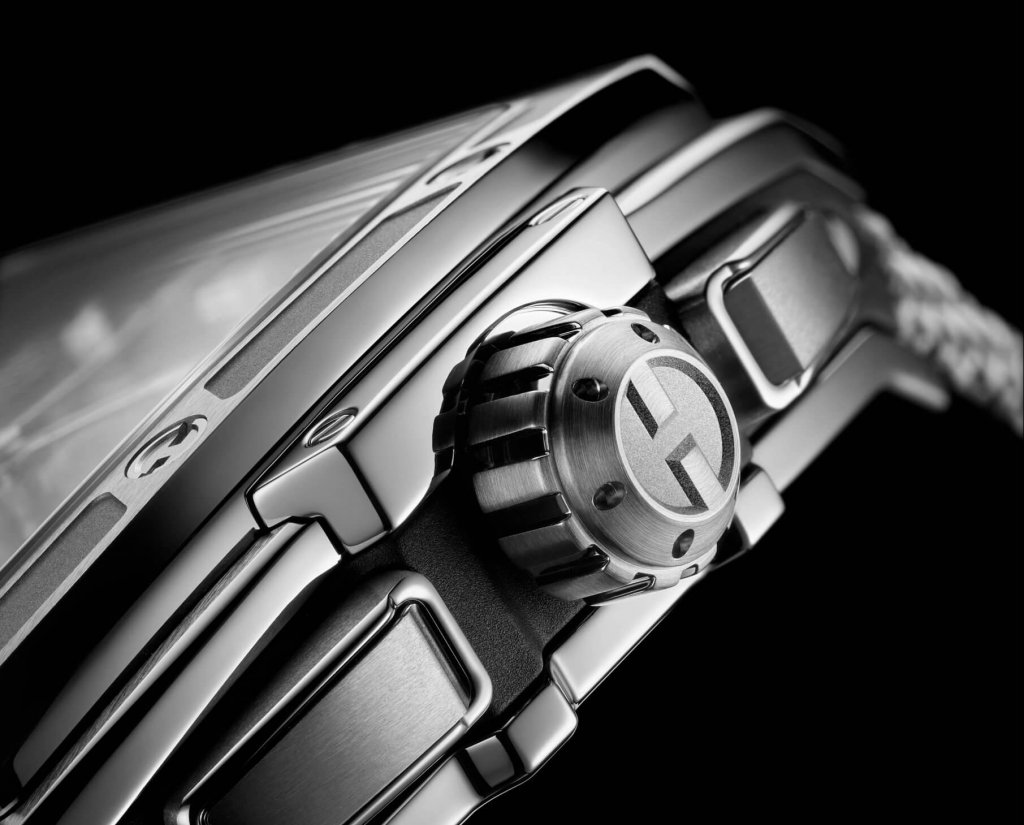 This year, the Spirit of Big Bang takes its rightful place within the coveted Essential Grey line. As the only barrel-shaped collection in Hublot's repertoire, it is entirely fashioned from 100% titanium, including the case, bezel, screws, crown, push-pieces, case-back, and folding clasp. The choice of titanium as the base material accentuates its chromatic properties, showcasing a soft and radiant grey that the masterful artisans at Hublot have expertly sandblasted and ground. To complement this aesthetic, the rubber strap has been thoughtfully matched, its outer edge marked by black thread, delineating a line that vanishes into the horizon.
Every component, including the movement, has been meticulously treated to maintain coherence. However, to ensure legibility, subtle variations have been introduced to the Essential Grey, such as the date disc at half-past four and the chronograph counters at 3 o'clock and 6 o'clock. Multiple finishes, including mirror polishing, drawn lines, graining, luminescent hour markers, and rhodium-plated hands, play with varying depths, resulting in an enchanting interplay of light and shadow. This approach not only ensures impeccable readability of the dial's indications but also enhances the intricate skeleton architecture of the HUB4700 Calibre, an automatic chronograph movement that beats at a high frequency of 5 Hz (36,000 vibrations per hour) and boasts a generous 50-hour power reserve.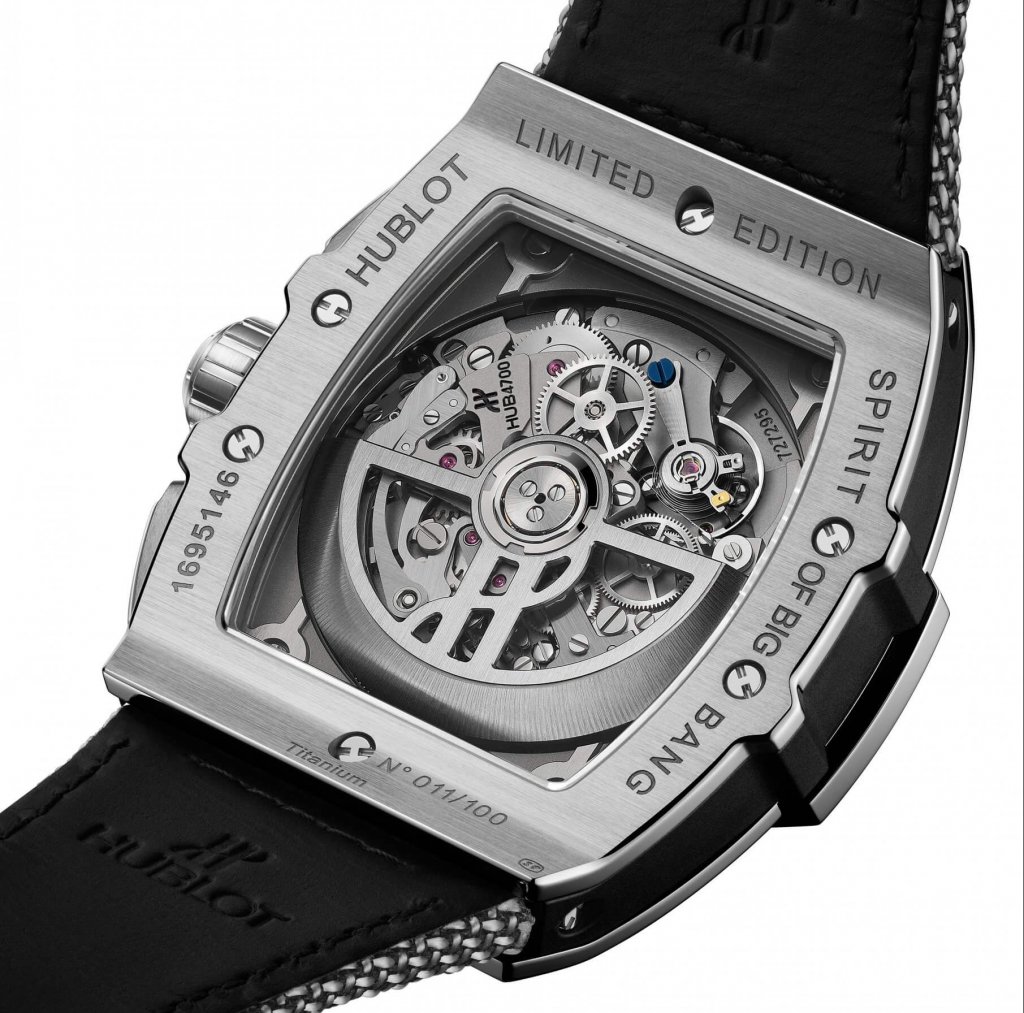 The Spirit of Big Bang Essential Grey revels in a 42-mm case that offers boundless expressive possibilities. The iconic two lateral push-pieces and water-resistance up to 100 meters (10 ATM) remain steadfast. And true to Hublot's commitment to versatility, the timepiece features the One-Click system, enabling effortless bracelet changes in a matter of seconds, without requiring any tools. Two variations are available: a grey grooved rubber strap and a grey option with a Velcro buckle and ceramic elements.
Only 100 pieces of the Spirit of Big Bang Essential Grey will grace the world, exclusively available online at hublot.com. As a testament to Hublot's dedication to customer satisfaction, this digital offering is coupled with the Full Hublot Service. From the moment of purchase and registration with Hublot, this exceptional timepiece entitles its owner to comprehensive servicing, free of charge, once the warranty expires. From restoring the original finish to renewing water-resistance, servicing the movement, and ensuring impeccable quality control, the Spirit of Big Bang Essential Grey is automatically eligible for a rejuvenating treatment through Hublot's Full Service.
Immerse yourself in the allure of the Spirit of Big Bang Essential Grey, a limited edition masterpiece that defines exclusivity and sets the standard for sophisticated timekeeping.