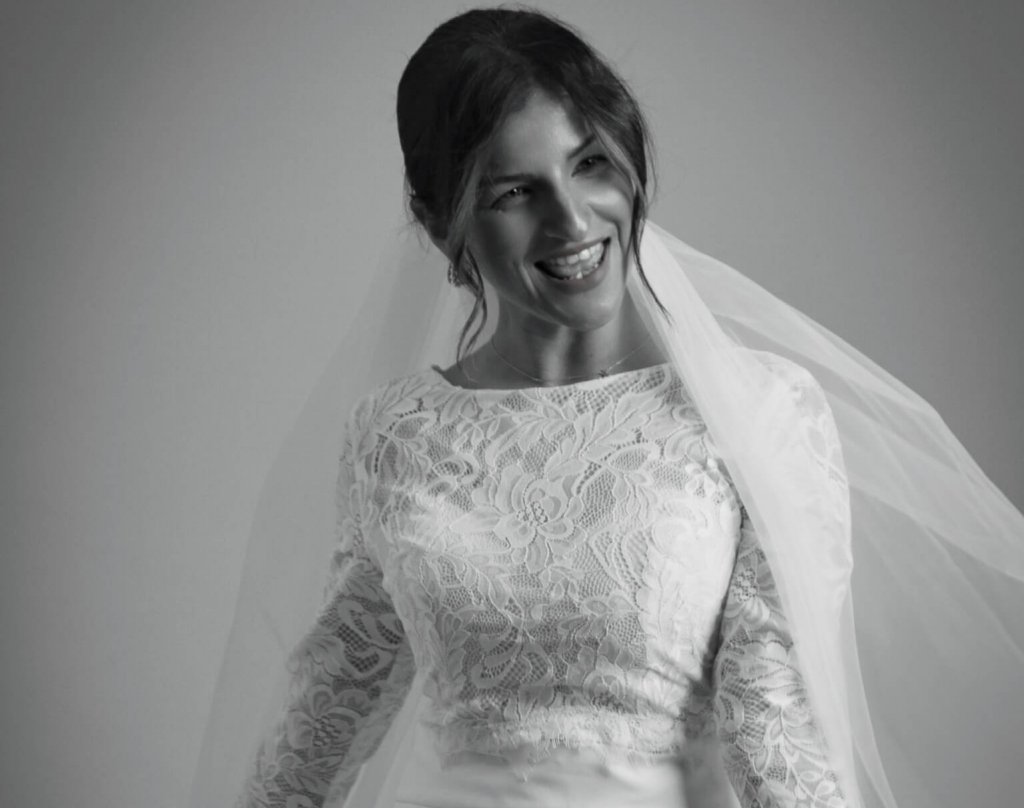 It's not often we see innovation in the bridal sector. Buying a wedding dress is a tradition, an event, an experience, but more increasingly, it can be a hassle. This was evidently clear during the pandemic. Lockdown saw the closure of non-essential shops, and bridal stores were no exception. During this time, Aleks Pakulniewicz saw an opportunity – but her idea for an online-only wedding brand was already in the making.
Aleks tells us: "I started Velo Bianco before the pandemic, but it was lockdown that really helped me to realise my vision. But it wasn't easy, I was challenging the entire industry, and asking brides to change the way they bought a wedding dress. It's one of the most important purchases for the big day – so convincing a bride to put her trust in us and buy her dream dress without seeing it first was a major hurdle. This was the perception that I had to change, and a lot of people told me it couldn't be done, or was even a bad idea."
But Aleks was determined to prove that high-value items could be sold more efficiently online: "There's so many advantages to eCommerce in the luxury sector that consumers are now realising. Especially in the wedding sector. A bride is presented with infinitely more options than before. Previously she would need to decide on the style of dress, the designer she preferred, and find a shop that stocks them. She would need to book an appointment, attend multiple fittings, and wait an exorbitant amount of time for her dress to be made. In the year or two she has to wait for her dress, a lot can change.

"The modern bride knows exactly what she wants. Our clientele is made up of busy women, they don't have much free time. They're decisive, well travelled, independent, and they know what they want. We've also noticed the wedding date is set much sooner than it used to be. To meet this demand, we have made innovations in dressmaking, one being that we offer standard sizing on all of our designs."
Velo Bianco hand makes all of the dresses to order in their European ateliers. Fabric is sourced from all over the world, and because of the standard sizing options, the turnaround time is around 12 weeks. This is a huge difference to the industry norm. "It was important for me to be able to provide our clients with the latest bridal trends quicker and easier. This works perfectly for last minute brides and couples travelling to their dream destination wedding, without having to plan years in advance."
"Dressmaking has been in my family for generations. My grandmother was a talented seamstress for over 50 years, and it was her legacy that inspired me to create something of my own, and make her proud. We take those artisanal seamstress skills, and apply them to modern tailoring and luxurious fabrics. We adopt the latest technology to help us create, market and deliver our dresses worldwide. We have also innovated with our unique bridal accessories such as our range of overskirts, which allows the bride to have two different looks on her wedding day."
Now, Velo Bianco is an online success story. The brand is growing internationally, with their exquisite creations being shipped to over 15 countries. The plans to expand the business are led by organic growth. "I don't want the company to become overwhelming. I want to make sure that every single bride feels special, and has an exceptional experience. Quality control is key, and so is the aftercare. By focussing on remaining as a boutique online store, and staying true to our roots, I can ensure that every single dress is made perfectly."
Velo Bianco will be featured in The Northern Wedding Show on the 4th – 5th February 2023 at the Utilita Arena, Newcastle. The latest wedding collection will be unveiled on the catwalk. Expect harmonious fabrics, classic cuts, clean lines, thigh-high slits, detachable bows, exquisite fabrics, pearls and delicate touches. You can win tickets by following the Instagram page here.